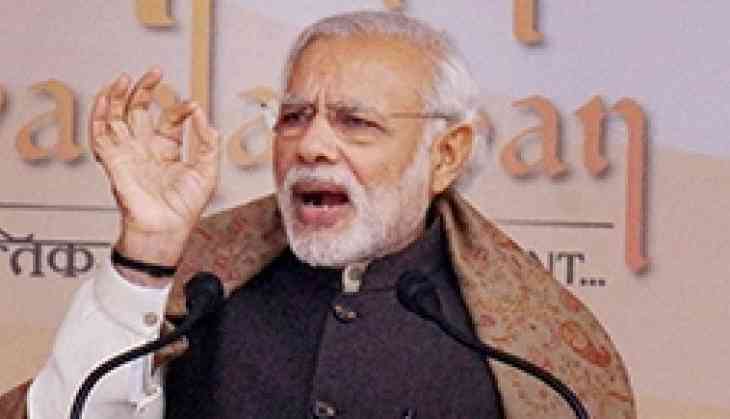 PM Modi to launch several initiatives on Ambedkar birth anniversary (ANI)
On the occasion of the 126th birth anniversary of Dr. Bhim Rao Ambedkar, Prime Minister Narendra Modi will launch several initiatives to further the digital payments revolution in India on Friday (April 14).

These will include, the launch of a BHIM Aadhaar platform for merchants, cash back and referral bonus schemes for BHIM and declaring about 75 townships going less-cash.

Prime Minister Modi will also felicitate the winners of a mega draw of the two major incentive schemes to promote digital payments, viz. Lucky Grahak Yojana and Digidhan Vyapaar Yojana.

These initiatives would further promote the digital movement that the country embarked upon and reinforce Dr.Ambedkar's vision for social empowerment of all through financial inclusion.

The BHIM-Aadhaar, the merchant interface of the BHIM App, will pave the way for making digital payments by using the Aadhaar platform. This will enable every Indian citizen to pay digitally using their biometric data like their thumb imprint on a merchants' biometric enabled device which could be smartphone having a biometric reader. Any citizen without access to smartphones, internet, debit or credit cards will be able to transact digitally through the BHIM Aadhaar platform, thus realizing Dr. Ambedkar's vision of social and financial empowerment for all. Already, 27 major banks are now on board with three lakh merchants so that they can start accepting payments using BHIM Aadhaar.

The Prime Minister will launch two new incentive schemes for the BHIM - Cashback and Referral bonus - with an outlay of Rs. 495 crore for a period of six months. This is to ensure that the culture of digital payments permeates down to the grassroots.

Under the Referral bonus scheme both the existing user who refers BHIM and the new user who adopts BHIM would get a cash bonus credited directly to their account.

Under the Cashback scheme the merchants will get a cashback on every transaction using BHIM. Both schemes are to be administered by MEITY and implemented by NPCI.

Winners of the mega draw would be felicitated by the Prime Minister at a function in Nagpur tomorrow. The winners of the mega draw itself are a testimony to the spread of the digital payments revolution in the country.

The 100 days of DigiDhan Melas, led by NITI Aayog in 100 cities across India, have had a huge impact in enabling increased usage of digital payment methods. At least 15,000 institutions have gone cashless across just these 100 rural and urban cities across each one of the 27 states and 7 UTs. With a turnout of over 15 lakh from cities, small towns and villages, the melas have enabled lakhs to open new bank accounts as well as create new Aadhaar cards.

BHIM App has already created a new world record by registering 1.9 crore downloads in just four months since its launch in December, 2016.

With a view to achieving the target of 2500 crore digital transactions during the current financial year, the Prime Minister will also announce about 75 townships spread all over India as 'less-cash townships'. A less-cash township is one where the deployment of payment acceptance infrastructure is complete, all the families in the township are covered under training programs.

The townships selected for the launch have been subjected to independent third party assessment by Price Waterhouse Coopers (PWC) and only those townships which have reported more than 80 percent of the total number of transactions in the township being done through digital modes of payments during the review period are included in this list. These townships are likely to generate over 1.5 lakh digital transactions every day thereby leading to about 5.5 crore digital transactions in a year.
-ANI