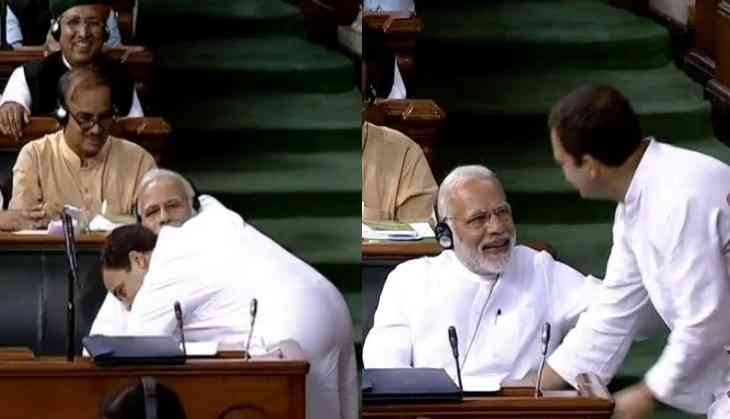 Prime Minister Narendra Modi has delivered his final speech in Parliament on 13th February ahead of 2019 Lok Sabha elections. During a speech, PM Modi didn't miss the opportunity to troll Congress chief Rahul Gandhi's act of hugging and winking inside Parliament last year.
While describing what Rahul Gandhi, he recalled the first time he came to Parliament and said that he learnt many things. Later on, he said that 'for the first time I realised the difference between gale lagna and gale padna.' PM Modi talked about the moment when Rahul Gandhi all of sudden came to hug PM Modi after completing his speech.
PM Modi also further told about Gandhi's wink after giving a hug to PM in the house. Rahul Gandhi's hug to PM Modi had surprised everyone and, as soon as, he reached to his seat, Rahul winked at fellow Congress parliamentarian Jyotiraditya Scindia, sitting next to him. Therefore, BJP, the ruling party interpreted the wink as the political stunt and there was no heartfelt gesture shown by Congress chief to PM Modi.
'I saw for the first time that there are aankhon ki gustakhiyan (mischief of the eyes) in the house," PM Modi said and the laughter.
Pm Modi Last speech in the parliament before election.#bjp #NarendraModi #Modi4NewIndia #news #India #Indians #YouthIsPower #NamoAgain #Trending #PoliticsToday #LokSabha #RajyaSabha #ArunJaitley #BollywoodCelebs pic.twitter.com/6vr6HCX3WM

— @metronews18 (@metronews181) February 14, 2019
Very proud moment for all Jains PM Narendra Modi used our most precious word'Micchami Dukadam' today IN his concluded speech IN Loksabha 👍👍👍 pic.twitter.com/R9JpHq3duq

— samir tarachand soni (@stutimpoint) February 13, 2019

Earlier on 12th February, Congress has shared a message on Twitter on the occasion of 'Hug day' for BJP and wrote, 'Today our message to the BJP is simple: Hug, don't hate.'
Today our message to the BJP is simple: Hug, don't hate ❤#HugDay pic.twitter.com/KaVSUPMMET

— Congress (@INCIndia) February 12, 2019
Also read: PM Modi left stunned after the reply of a young girl due to his late arrival at Vrindavan; see video