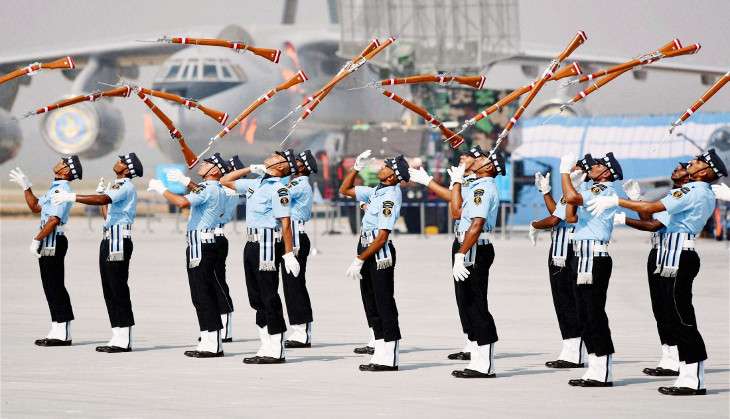 Prime Minister Narendra Modi on 8 October saluted all the Air Force personnel and their families on the 84th anniversary of the Air Force.
Saluting all air warriors & their families on Air Force Day. Thank you for protecting our skies. Your courage makes India proud. pic.twitter.com/bCusPOV1nf

— Narendra Modi (@narendramodi) October 8, 2016
Celebrations also kick started at the Hindon Air Base in Ghaziabad with a large parade and an air display.
The air display commenced with flag-bearing sky divers of famous AKASH GANGA Team dropping out of AN-32 aircraft in their colourful canopies.
Ghaziabad (UP): Para jumps being carried out at Hindon Air base on Air Force Day. pic.twitter.com/kNN5fudiQ2

— ANI (@ANI_news) October 8, 2016
Air Force Day being celebrated at Hindon Air base in Ghaziabad. Air Force Chief Arup Raha inspects guard of honour pic.twitter.com/UiH1eBiGXS

— ANI (@ANI_news) October 8, 2016
The Indian Air Force, the Guardians of the Skies, has over the years, made notable contributions to the society and these feats would not have been attained without the contribution and sacrifices of the dedicated air warriors and test crew who are trained at the Aircraft and Systems Testing Establishment (ASTE).

President Pranab Mukherjee also congratulated the Indian Air Force on their 84th anniversary. "Over the last eight decades, the IAF has emerged as an immensely professional and combat-ready force. It has achieved distinction in defending our skies and delivering vital humanitarian aid and disaster relief," Mukherjee said.

Greeting the force, the President said the brave men and women in blue have displayed incredible courage and determination in the discharge of their duties, acquitting themselves with great elan.

--With Agency Inputs