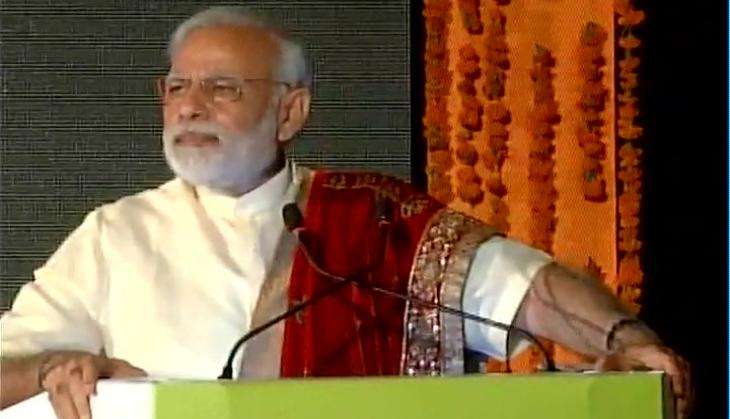 Prime Minister Narendra Modi reached Tokyo where he will attend the Annual Summit meeting with Japanese counterpart Shinzo Abe and have an audience with the Emperor of Japan scheduled for tomorrow.
"Konbanwa Tokyo! PM @narendramodi arrives in Japan for the Annual Summit, his second visit in two years," Vikas Swarup, official spokesperson of the Ministry of External Affairs tweeted.
Prime Minister Modi, earlier in the day, paid his final respects to late Thai King Adulyadej Bhumibol in Dulsit Maha Prasat Hall in Bangkok.
He landed in Bangkok earlier in the day en route to Japan and paid homage to the late King. The Prime Minister had embarked on a three-day visit to Japan this morning from New Delhi.
In a statement issued before his departure for Tokyo, the Prime Minister said he and his Japanese counterpart would be travelling to Kobe by the famed Shinkansen bullet train, the technology that will be deployed for the Mumbai-Ahmedabad high-speed railway. He also said that he will be visiting the Kawasaki Heavy Industries facility in Kobe, where the high-speed trains are manufactured.
The Prime Minister said high-speed railway cooperation between the two countries is a shining example of the strength of bilateral cooperation.
He said it will not only boost trade and investment ties but also create skilled jobs in India, improve infrastructure and give a boost to 'Make in India' mission.
The summit will be an occasion for the Prime Minister to review the entire spectrum of bilateral cooperation with his Japanese counterpart in Tokyo tomorrow.
Prime Minister Modi will also have a detailed interaction with top business leaders from India and Japan, to look for ways to further strengthen our trade and investment ties.
The two sides are likely to sign several agreements, including on civil nuclear cooperation. Both leaders are also likely to discuss defence cooperation, including joint maritime exercises between Japan, India and the U.S.
The South China Sea is also likely to figure in the talks.
During Prime Minister Modi's visit to Japan in 2014, the India-Japan relationship was upgraded to Special Strategic and Global Partnership.
In the 2015 summit in New Delhi, India and Japan outlined a vision of working together for peace and prosperity in the Indo-Pacific region and the world.
--ANI