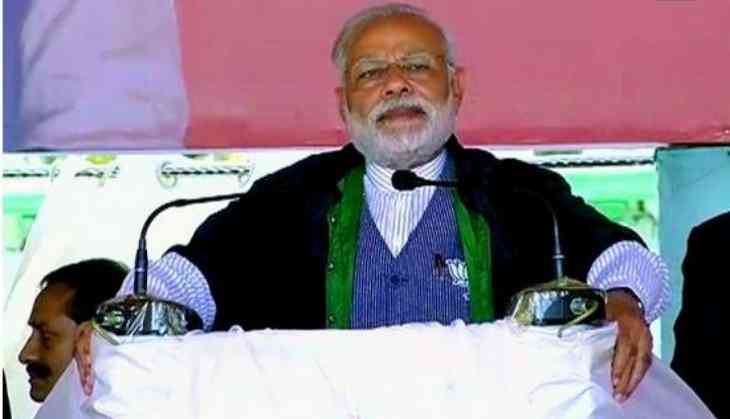 Prime Minister Narendra Modi on Saturday alleged that the Congress party is dividing people by spreading lies about the Centre compromising the territorial integrity of Manipur by signing an accord with the National Socialist Council of Nagaland -- Isak-Muivah (NSCN-IM) insurgent group.
"People have been talking about the accord with the Nagas. I want to ask the CM, were you sleeping for 1.5 years? You never wrote a letter to Centre seeking details. I alone revealed everything about the accord to the Congress. They are dividing the people of Manipur by spreading lies," Prime Minister Modi said at a rally in Imphal.
He said the Congress has made Manipur their political battle ground where they have been pitting one community against another for personal gain.
"In order to win elections and they are making people fight against each other. They pitted one brother ageist another. They don't care about the people of Manipur, all they care about grabbing power. They don't deserve to be in the government," Prime Minister Modi said.
The Prime Minster assured the people that the Naga accord would not jeopardise the territorial integrity of the state.
"Whom would you believe, the Chief Minister who has been spreading lies for the last 15 years or Prime Minister who has been working diligently for 2.5 years, I leave that to you. I want to assure you that we are not jeopardizing the territorial integrity of the Manipur," he said.
The Prime Minister also said that if the BJP comes to power the people would not have to face the brunt of month long economic blockade.
"I urge you to let the BJP serve the people of Manipur. Just give us 5 years. You gave Congress 15 years. In 15 months, we'll do what they haven't achieved," he said.
-ANI