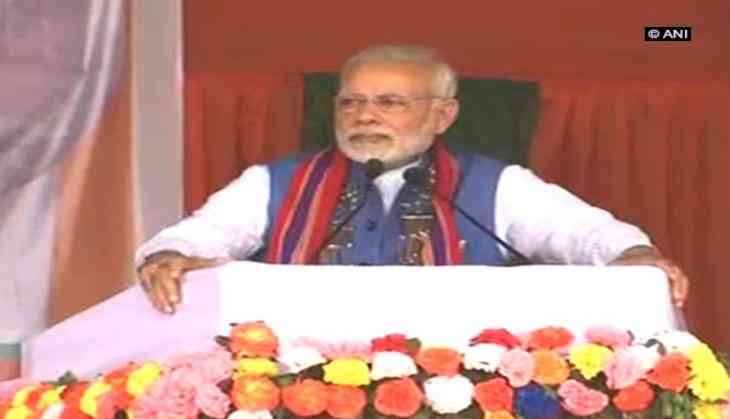 In order to give a push to the Bharatiya Janata Party's (BJP) victory prospect in poll-bound Meghalaya, Prime Minister Narendra Modi on Thursday said that they would ensure good governance guided by the philosophy of 'Sabka Saath, Sabka Vikas' in the state.
"The enthusiasm and support that people of Meghalaya have towards the BJP are overwhelming. I thank the people for coming out in large numbers. I urge people of Meghalaya to give us a chance to serve the state. We will ensure good governance guided by the philosophy of 'Sabka Saath, Sabka Vikas'," Prime Minister Modi said while addressing a public rally in Meghalaya's Phulbari in West Garo Hills district.
"It is due to the 125 crore Indians that the entire world sees India as a new ray of hope," he added.
Further lashing out at the Congress party, Prime Minister Modi questioned them as to why were they blaming 'Modi' for all causes and not discussing development.
"Why is the Congress government in Meghalaya not discussing development? Why are they not telling the people about their development works? They are only busy in blaming 'Modi'," Prime Minister Modi said.
Pointing to the major developments in the state, Prime Minister Modi said "Meghalaya needs a double engine for growth. A BJP led Government at Centre and a BJP Government in the state. If Meghalaya is properly connected with rest of India through road, rail and air, then it can transform lives of people in the state."
"These elections in Meghalaya are about freeing the state from scams of Congress government. Also, what is the reason that Congress government could not ensure electricity for all in the state? Through the Saubhagya Yojana, we will ensure power for all," he noted.
Moreover, to ensure opportunities for the people in Meghalaya, Prime Minister Modi said, "We want to further strengthen the 'Act East Policy.' This will open up opportunities for people in the state and in the entire Northeast".
"Meghalaya has immense potential for the growth of tourism sector but the state lacks tourists. No efforts were made ever to strengthen the sector. We will ensure more and more tourists arrive here. This will generate income opportunities for people," he stated.
Taking a jibe at Chief Minister of Meghalaya Mukul Sangma, Prime Minister Modi said that despite him being a doctor, the health infrastructure was bad in the state.
"The Chief Minister of Meghalaya is a doctor but look at the condition of health infrastructure in the state. It is in ruins. Women and children have to suffer due to lack of proper health facilities," Prime Minister Modi said.
"Centre allocated funds for construction of houses in Meghalaya but those funds were never utilized. The state government did not build houses for the poor. It was our Government that brought back our nationals who were stranded in worn-torn areas of Iraq, Yemen and Afghanistan. We closely monitored every situation and ensured they reached back home safely," he asserted.
Prime Minister Modi will address election rallies in Nagaland and Meghalaya this week to drum up support for the BJP in the north-eastern states.
There are six assembly seats in Tuensang district in the eastern part of Nagaland.
The BJP has fielded candidates on four seats, while its ally Nationalist Democratic Progressive Party (NDPP) nominees are in the fray on the rest two constituencies.
--ANI