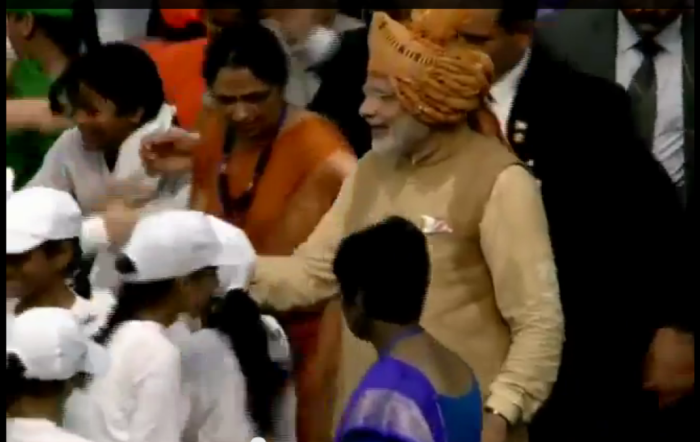 Prime Minister Narendra Modi, on 15 August, ventured forward to greet the school kids who were present at red fort during his address and then moved towards the VIP enclosure.
In an encore of the last year's Independence Day celebrations, Modi, sporting a traditional safa (headgear), got down from his car while leaving the venue of the function at Red Fort and broke away from the SPG security cover to meet a group of school children, who had assembled there.
Amid loud cheers, the Prime Minister ventured forth among the children and shook hands with a few of them.
13-year-old Gulistan, a class 9 student at a government school in the city was ecstatic to shake hands with the Prime Minister.
"We were all standing, after the programme to see him leave the venue, when he suddenly came out of his car and walked towards us. I was in the front rows, so feel lucky to have shook hands with the PM," she said, with a beaming smile.
Nama, 10, was equally delighted to have met the Prime Minister in person, and said, it was nothing less than a dream.
"I was listening to his speech and thought would go home after the end of the event. But, it was a nice surprise. I am going back home feeling very lucky," the class 6 student said.
Modi later, instead of returning to his car, chose to walk a few distance, along the fence of a VIP enclosure at the venue to greet the enthusiastic crowd, who hung on to the railings to catch a glimpse of the Prime Minister.
Thousands of schoolchildren wearing saffron, white and green-coloured track suits and matching caps, made 'Jai Bharat' formation much to everyone's delight to mark the 69th Independence Day.
11-year-old Aliya, a class 6 student at the Khalsa Girls School in Chandani Chowk, said, "we had worked very hard for this. And, it was an icing on the cake that I got to shake hands with the Prime Minister."
-PTI