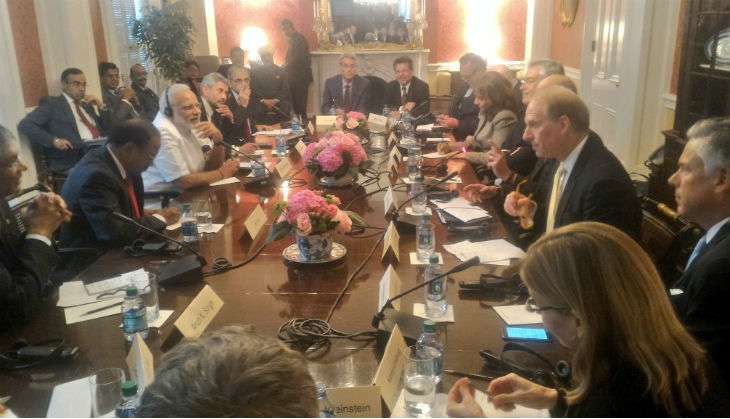 Prime Minister Narendra Modi held a meeting with heads of American think tanks at Blair House on 6 June.
After the meeting, Indian Ambassador to the US, Arun Kumar Singh, said that the interaction was aimed at understanding the leaders' perception of global trends in the coming years.
"The aim of the interaction was to understand from them how they see the global trends in the coming years, the challenges and what the US and India could work together, keeping in mind the templates that the Prime Minister has articulated is what can the US and India do together for the world and that was really the theme," Singh said.
"This sort of think tank represents a whole spectrum of opinion here," said Singh, adding, "It was in that framework that different current global issues were in a medium and longer term perspective, and we looked at opportunities and ways for us to be able to work together."
Singh said that the think tanks were from Brookings, Council on Foreign Relations, Centre for American Progress, the Atlantic Council, Houston Institute, Central for National Interest, Global Energy Capital, Carnegie Endowment, the Asia Group, Pew Research Centre, the US Institute of Peace and the Foundation for Defence of Democracies.
Talking about the ceremonies that took place at Arlington, Singh said it was in broadly two parts.
"First was wreath laying at the Memorial to the 'Unknown Soldier'. US Defence Secretary Ashton Carter was also present. And then, the Prime Minister laid a wreath at the memorial for those who were on the Columbia Shuttle, where an Indian-origin astronaut Kalpna Chawla was also involved," he said.
"At the event, we had representatives from the family. Some relatives of Kalpana Chawla, who were present. Indian-origin astronaut Sunita Williams was also present on the occasion. Some representatives from NASA were present, because again cooperation between India, the US and space has been an important area of contribution," he concluded.
Prime Minister Narendra Modi will meet US President Barack Obama on 7 June. He will attend a lunch hosted by Obama. Later in the evening, PM Modi will address the US-India Business Council. Defence Secretary Carter will also call on the Prime Minister.
On 8 June, PM Modi will deliver an address at the US Congress. This will be followed by a lunch, hosted by the Speaker in honour of the Prime Minister, followed by a joint reception - by the House and Senate Committees on Foreign Relations and the India Caucus and a brief community reception.
--With ANI inputs