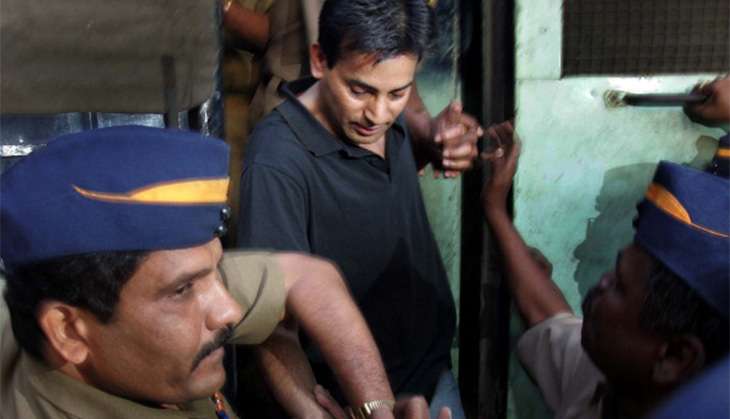 Photographs in the possession of a Mumbai tabloid show that gangster Abu Salem has been meeting his fiancée and relatives on train journeys as he travels from Taloja jail in Navi Mumbai, where he is lodged, to Delhi and Lucknow to attend court. One photograph also shows him talking on a mobile phone.
The photographs were shot between 2012 and 2015, says NDTV, quoting Mumbai's Mid-Day tabloid. They raise many questions about security issues.
Sadanand Gaikwad, superintendent of the Taloja Jail said: "As per the procedure, we send a letter to the Local Arms Unit to escort the accused with conditions that no family member, friend or relative be allowed to meet him while he is being transported. We also ask the escort team to restrict the undertrial from eating any outside food. We instruct the Local Arms Unit to provide a strong escort team."
Dilip Sawant, DCP, crime branch, Navi Mumbai, said he will comment on any lapse in security only after seeing the photographs for himself.
Sayyed Bahaar Kausar, Salem's fiancée had sought the special TADA court's permission to marry Salem last June, following newspaper reports that she had married him already in 2014. She told the court that the news reports had left her "ineligible" for marriage to anyone else.
Salem had accepted her proposal via the court, saying that he would marry her "so that the woman can freely move around and be able to meet and answer all relatives, friends and well-wishers' [questions] with her head held high in society."
However, the special TADA court judge said a marriage could only be considered at the final stage of the 1993 blast case trial.
Kausar, a wannabe actress, had apparently met Salem in jail, when she asked the gangster to use his contacts to give her a break in Bollywood. Meeting frequently, the two fell in love. In 2014, the media reported that they had married while on a train in the presence of relatives and a police escort team.