Amnesty International Germany bestowed the 8th Human Rights Award on lawyer and human rights activist Henri Tiphagne in recognition of the work of his organisation, People's Watch.
Tiphagne, Executive Director of People's Watch, is the first Indian to be honoured with the award, which was presented at a ceremony at Berlin's Maxim Gorki Theatre on 25 April.
"For many decades now, Henri Tiphagne has been tirelessly and bravely standing up for human rights. His organisation's invaluable work includes campaigning against discrimination and the use of torture in India," Selmin Caliskan, Director of Amnesty International Germany said in a press release by Amnesty International.
People's Watch: Advocating human rights for over two decades
People's Watch was founded in the mid-1990s. The organisation, headquartered in Madurai, Tamil Nadu, monitors human rights violations and provides legal support to those in need. The organisation is also involved in propagating human rights education.
"Through his organisation People's Watch, Henri Tiphagne has been supporting victims of state violence for more than 20 years now. As he helps them claim their rights and seek redress, he is himself being targeted by the authorities," Caliskan said.
Under the Foreign Contribution [Regulation] Act, the Ministry of Home Affairs froze the bank accounts of the organisation on multiple occasions between 2012-14, in order to asses the foreign funding of the organisation.
"India has a vibrant civil society: I am humbled to accept this prize on behalf of all the brave women and men who tirelessly campaign for human rights in India. However, the space for civil society activists is shrinking constantly. The government leaves us no space to breathe," Tiphagne said upon receiving the award.
As part of the honour, People's Watch has been awarded 10,000 euros from Amnesty International Germany's foundation, Stiftung Menschenrechte, Forderstiftung Amnesty.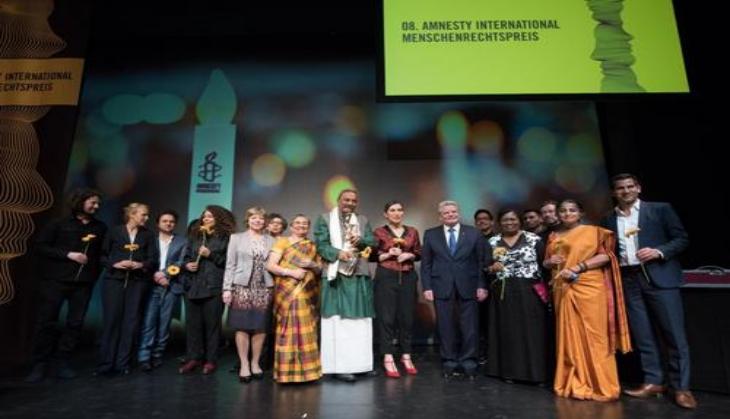 Photo: Amnesty.org.in