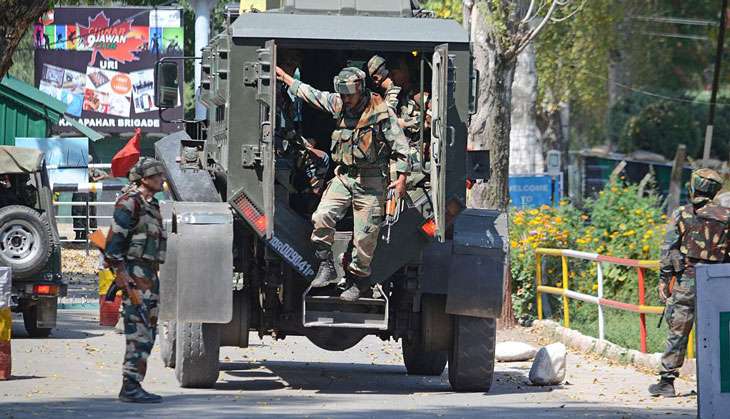 Islamabad rejected New Delhi's claims of Pakistan's involvement in Uri terror attack in Jammu and Kashmir, on 18 September and said that pointing fingers on them has become a traditional tendency of India after each terrorist attack.
"Pointing fingers at Pakistan has become a traditional tendency of India after each terrorist attack," the Dawn quoted Pakistan Foreign Office spokesperson Nafees Zakaria as saying.
Also Read: Uri Attack: Mission map in Pashto reveals the terrorists' plan
"In the past many Indians were involved in the terrorist acts for which India had blamed Pakistan," he asserted.
Commenting on Indian Home Minister Rajnath Singh's statement wherein he declared Pakistan as a terrorist state, Zakaria said that India was trying to divert world's attention from what he termed as "human rights violations" being committed in Kashmir.
Also Read: Uri attack aimed at creating war-like situation in J&K, says CM Mehbooba Mufti
The Pakistan Foreign Office spokesperson also informed that Prime Minister Nawaz Sharif is going to strongly highlight the Kashmir issue in the UN General Assembly.
Branding Pakistan as a 'terrorist state' and stating that it should be identified and isolated as such, Singh had earlier said that there are definite and conclusive indications that the perpetrators of Uri attack were highly trained, heavily armed and specially equipped.
"I am deeply disappointed with Pakistan's continued and direct support to terrorism and terrorist groups," he said in a series of tweets.
Meanwhile, condemning the terror attack as well, Indian Prime Minister Narendra Modi assured the nation that those behind the 'despicable' attack will not go unpunished.
"We salute all those martyred in Uri. Their service to the nation will always be remembered. My thoughts are with the bereaved families," the Prime Minister said in a series of tweets.
Hinting at Jaish-e-Mohammad's role behind the Uri attack, India's Director General Military Operations (DGMO) Lt. Gen. Ranbir Singh also asserted that the evil designs would get a befitting reply.
"The killed terrorists were all foreign terrorists and as per the initial reports, they belong to Jaish-e-Mohammad. Along with the terrorists, we recovered four AK-47 rifles, four under barrel grenade launchers, a large number of grenades and other war-like stores," Lt. Gen. Singh said.
Lt. Gen. Singh said the items recovered from the slain terrorists had Pakistani markings, adding he has conveyed India's serious concerns about the same with Pakistan Director General of Military operation General Raheel Sharif.
"I would also like to mention that the intelligence agencies and security forces are working in close synergy with each other and regular intelligent inputs are received from intelligence organisations and agencies and necessary action is being taken accordingly," he added.
At least 17 soldiers lost their lives and 19 others injured post the terror strike on an army camp close to the headquarters of the 12th Brigade at Uri in Baramulla district.
All four terrorists have been killed in what has emerged as worse than the attack on the Pathankot air base earlier in January this year, in which seven army men were killed.
-ANI