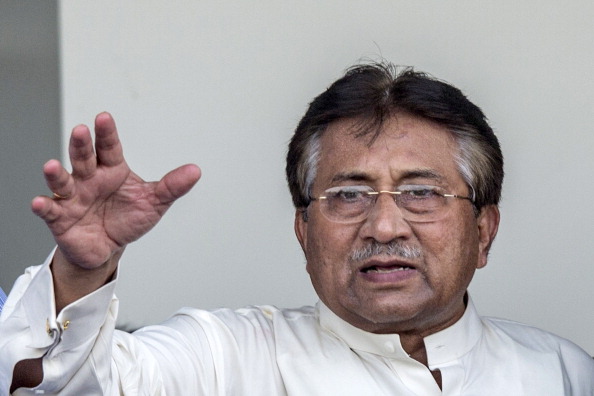 Pakistan's ruler Pervez Musharraf and his top diplomats made a U-turn on talks with India after the then Prime Minister Atal Bihari Vajpayee released Hurriyat leaders in early 2000 as part of his peace initiatives on Kashmir, according to a declassified US cable.
Conversations between top US and Pakistani officials in the year 2000, before and after release of the All Party Hurriyat Conference Leaders, as documented in now some of the declassified cables, reflect that the Pakistani leaders were pleading before the US to use its influence to get Hurriyat leaders released.
And when they were released by Vajpayee, who announced a road map for peace talks with the Kashmiri leaders, the then Clinton Administration sent his top diplomats to Islamabad seeking reciprocal gesture from the Pakistani leadership, only to find them having making a U-turn on their promises.
In a meeting with the then Under Secretary of State for Political Affairs Thomas Pickering, the then Pakistani Foreign Secretary Inamul Haq refused to ensure Americans that they would not let terrorists cross the Line of Control as part of their push for a complete ceasefire on LOC.
"Pushed by Under Secretary Pickering about the meaning and ramifications of a 'complete ceasefire' ? did this mean the GOP (government of Pakistan) would end infiltration across the LoC? ? Haq suggested Pakistan would seek to curtail them in the context of a ceasefire, but quickly added given the length of the border GOP could not fully control the LoC.
"We cannot assure you of no official support for such incursions," according to the declassified cable of the Pickering-Haq meeting on May 26, 2000.
During the meeting, Pickering expressed concern that after Musharraf had asked US President Bill Clinton to secure the release of Hurriyat leaders, his foreign secretary was dismissing that move.
As per the cable, when Pickering asked Haq for reciprocal gesture from Pakistan after the release of Hurriyat leaders, Haq dismissed it as nothing has been done by New Delhi.
Some of the important portions of these declassified cables are highly redacted.
During a meeting with Pickering, the then ISI Chief Gen. Mahmud Ahmad conceded of his support to the militants in Kashmir.
According to another cable, Mahmud in a meeting with Pickering in April 2000 admitted that Pakistan has helped militants in Kashmir "like we helped the Afghans against the Soviets."
During all these meetings Pickering is seen asking Pakistan to end its support to Kashmiri militants.