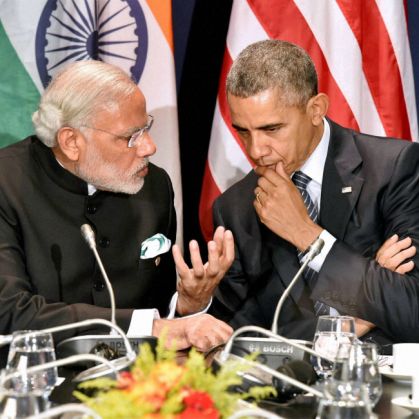 In an interview to the Press Trust of India, US President Barack Obama said that the Pathankot attack was another example of the "inexcusable terrorism that India has endured for too long", reports The Telegraph.
Obama said Pakistan "can and must" take more effective action against terror groups.
"Pakistan has an opportunity to show that it is serious about delegitimising, disrupting and dismantling terror networks," he said.
Obama also said he believed that Pakistan Prime Minister Nawaz Sharif has been cracking down on terror groups within the country since the attack on a school in Peshawar in December 2014. "Since then, we have seen Pakistan take action against several specific groups. We have also seen continued terrorism inside Pakistan such as the recent attack on the university in northwest Pakistan."
President Obama praised Prime Minister Narendra Modi for contacting Pakistan Prime Minister Nawaz Sharif after the Pathankot attack. "Both leaders are advancing a dialogue on how to confront violent extremism and terrorism across the region," he said. "We join India in condemning the attack... Tragedies like this also underscore why the US and India continue to be such close partners in fighting terrorism."
Speaking about the relations between India and the US, Obama said, referring to Modi: "We have developed a friendship and close working relationship, including our conversations on the new secure lines between our offices." In answer to a question on whether the relationship between the two countries has achieved its full potential, he replied: "Absolutely not."
"Since I took office, I have worked to deepen our cooperation with India across the board and I... believe that the relationship between India and the United States can be one of the defining partnerships of this century.... In my final year as President, continuing to deepen our ties will continue to be one of my foreign policy priorities," Obama said.