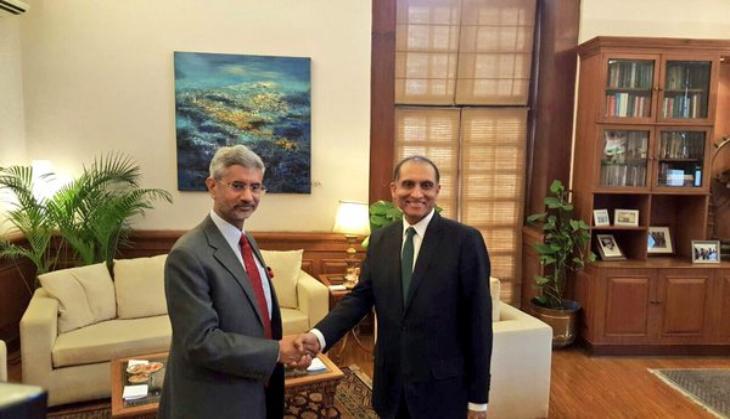 Pakistan broke basic protocol during the bilateral talks held between Indian Foreign Secretary S Jaishankar and Pakistani FS Aizaz Ahmad Chaudhary on 26 April, as it released a statement while the dialogue was still in process.
In its statement, Pakistan has said that Kashmir remains the core issue that requires a just solution, in accordance with UNSC resolutions and wishes of Kashmiri people.
According to media reports, Pakistan High Commissioner Abdul Basit released a statement seemingly before the dialogue concluded that read, "The meeting provided a useful opportunity to exchange views on recent developments in bilateral context. In line with our Prime Minister's vision of peaceful neighbourhood, the Foreign Secretary underscored Pakistan's commitment to have friendly relations with all its neighbours, including India."
India, on the other hand, kept the focus on terrorism and demanded that it gets consular access to Kulbhushan Yadav on urgent basis.
The Ministry of External Affairs spokesperson, Vikas Swarup, after the meeting, said, "Foreign Secretary clearly conveyed that Pakistan cannot be in denial on the impact of terrorism on the bilateral relations."
Read More: India-Pak FS talks over: Islamabad press statement starts and ends with Kashmir