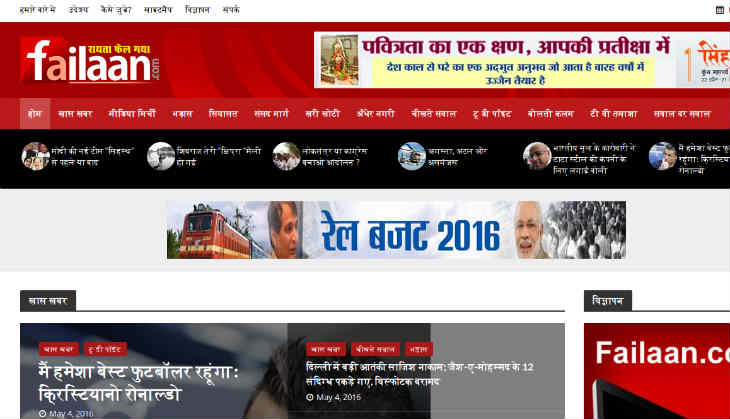 More than 234 websites have received advertisements, worth at least Rs 14 crore, from the state government of Madhya Pradesh. Most of these websites are run by friends or relatives of journalists.
According to a report in The Indian Express, the amounts handed over to the 234 websites ranged from between Rs 10,000 to Rs 21.7 lakh, over a period of four years, 2012-15.
The websites were identified in a list prepared by the government, in response to a question in the state Assembly by Congress MLA Bala Bachchan.
According to the report, about 26 websites received advertisements of Rs 10 lakh or more and 81 websites got advertisements worth Rs 5-10 lakh. At least 33 of these websites are being run from government-allotted accommodation in Bhopal.
Websites such a failaan.com (Rs 18.70 lakh), deshbhakti. com (Rs 8.75 lakh), rashtrawad.com (Rs 8.25 lakh), citychowk.com (Rs 11.90 lakh) and prakalp.org (Rs 10.60 lakh), were carrying the same content but listed under different names. The report also pointed out how the addresses of failaan.com (Prakhar Agnihotri) and .indiannews&view.com (Rs. 8.75 lakh, Rajesh Agnihotri) are the same.
Some other websites reported are:
mpnewsonline.com
burningnews.org
dakhal.net
webkhabar.com
mppost.com
socialmediamp.com
bharateseva.com
khabarmail.com
khabarsabki.com
bawandar.com
garbhanal.com
"Web sites are the new news media. Money was given to popularise this new medium, no matter who runs those sites. We have now revised the policy of giving advertisements to web sites. Before giving any money, we check whether they are actually working or not. Besides, we give advertisements now only after getting reports of the number of hits on the site. We cannot do anything if any of these web sites shut down after getting advertisements," said Anupam Rajan, commissioner for public relations, Madhya Pradesh, to The Indian Express.