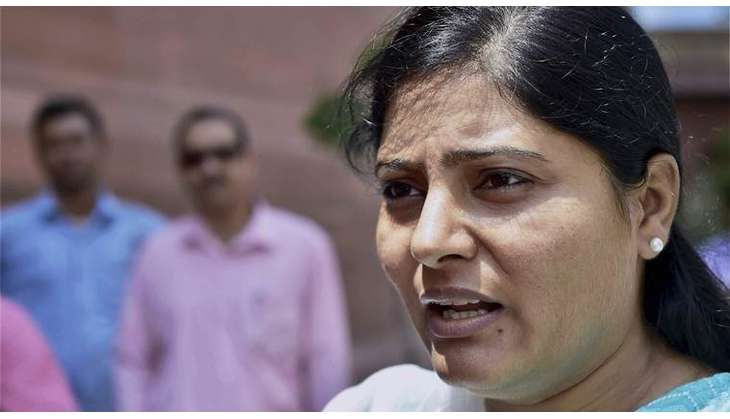 Police lodged an FIR against 158 people for allegedly misbehaving with Union Minister and Apna Dal leader Anupriya Patel during a road show in Pratapgarh, Uttar Pradesh.
"An FIR was registered against local leader Vinod Dubey and over 157 others last night for allegedly misbehaving with Patel and Apna Dal workers during their party's roadshow," a senior police office said.
The FIR has been lodged at Raniganj police station. The incident had occurred on 11 September afternoon when Apna Dal workers were on a roadshow with the Minister of State for Health and Family Welfare and party MLA RK Verma.
Police said the procession came face to face with the supporters of Dubey, who is planning to contest the state Assembly polls as an Independent candidate, leading to an argument. The Union minister had said the incident was a "conspiracy" to disturb her party's procession.
"I think it was a conspiracy (of ruling SP). I was not provided with security and even after complaining, the District Magistrate and the Superintendent of Police did not reach the spot immediately," she had said.
She said if such was the response of the law enforcement agencies to a request by the minister, then "one could easily understand the plight of common people regarding law and order matters".
Alleging misbehaviour with their leaders, Apna Dal workers had blocked traffic on Raebareli-Varanasi highway and later, when the Union Minister left, they sat on a dharna.
Two days ago, on 10 September a Central Public Works Department (CPWD) Junior Engineer and a contractor claimed that they were locked up inside the house of Union Minister Anupriya Patel over a delay in work.
Contractor Narender Gupta, who was locked up in Patel's home said that the Minister's family accused them of delaying the work and then locked them up.
"Tiles didn't come today. It will come tomorrow morning. They accused us of delaying the work and then locked us up. We were told that we will be locked up until the tiles don't come," Gupta told ANI.
--inputs from agencies