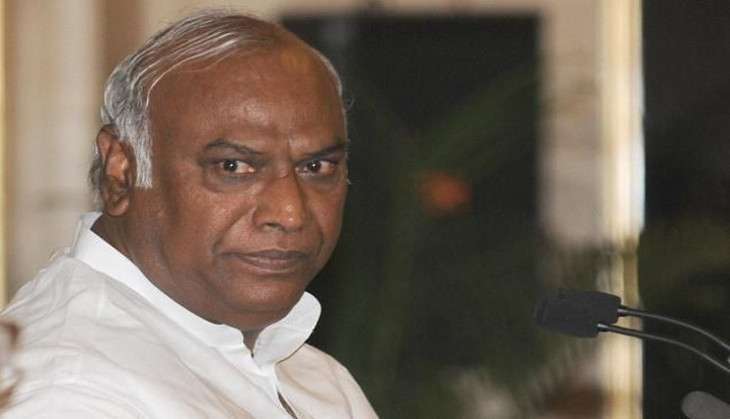 The Congress Party on Monday hit back at Prime Minister Narendra Modi for pointing fingers at the opposition instead of rectifying his fault and said the 'Aakrosh Divas' is being observed to highlight the nation's anger due to the government's demonetisation drive.
Leader of Opposition in Lok Sabha, Mallikarjun Kharge, also rubbished reports suggesting that a 'Bharat Bandh' has been called today.
"Who is calling for Bharat Bandh? We said that we will be observing 'Aakrosh Divas' and we are doing all this to show the anger which is within the common man. Is it wrong to stand for the people of the nation?" asked Kharge.
Also Read: Aakrosh Rally: Opposition likely to stage protest against demonetisation today
"I will say that befooling people by making irrelevant statements is not good. Instead of rectifying their fault, the Prime Minister is pointing fingers at us and this does not suit him," he added.
The opposition parties have called for a countrywide protest today against what they call the government's "mishandling" of the currency ban. Only the Left Front, which has a presence in Kerala, Bengal and Tripura, has called for a strike or 'Bharat Bandh' in the three states.
Prime Minister Modi yesterday slammed the opposition for its all-India shutdown call over demonetisation, saying the country instead needed an end to evils like corruption and black money.
Also Read:Opposition didn't call for all-India bandh, says Ghulam Nabi Azad
Addressing the BJP's Parivartan Rally in Kasya assembly segment of Kushinagar in Uttar Pradesh, the Prime Minister said, "On the one hand we are initiating steps to curb corruption, but on the other hand a few people are talking about 'Bharat Bandh'."
He described demonetisation as a cure to the 70-year-old disease of corruption.
--ANI