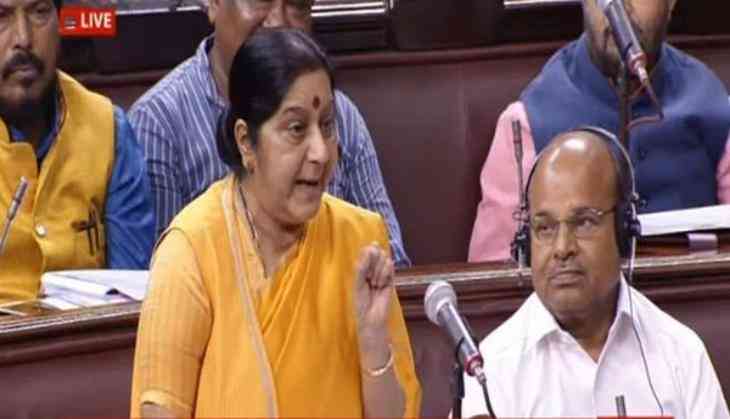 The Opposition on Friday moved a privilege motion against External Affairs Minister Sushma Swaraj, over her response in the House to the short duration discussion on India's foreign policy and engagements with strategic partners
The motion has been filed under rule 188 of rules of procedure and conduct of business on false and misleading statement.
Swaraj on Thursday attacked the Opposition in the Rajya Sabha on foreign policy issue.
The Opposition was to move two privilege motions against Swaraj in Rajya Sabha today.
The motions were to be moved against her over two issues - misinformation on Prime Minister Narendra Modi's Lahore visit and the Bandung Conference.
Congress leader Anand Sharma questioned Prime Minister Modi's foreign policy and asked the Centre its roadmap on dealing with Pakistan.
Flagging its concern over the deteriorating ties between both the nations, Sharma asked why Prime Minister Modi made that "dramatic" visit to Pakistan and why, till date, nobody knows the minutiae of the meeting.
"You were going to Afghanistan and got down at Lahore mid-way; till date the Prime Minister hasn't told the nation what talks took place. On one hand, you get miffed and cancel talks after Pakistan invites separatists on a tea party, and on the other hand, you make a dramatic visit breaching all protocols," he said.
In December 2015, Prime Minister Narendra Modi had 'unexpectedly' landed in Lahore to meet his counterpart Nawaz Sharif on his way back home after a day-long trip today to Afghanistan where he went after concluding a two-day visit to Russia.
The Congress also warned Swaraj over keeping two different and distinct views on the China issue and said that when it comes to Beijing, India should speak in one voice, there will be no two opinions on that.
This happened after the External Affairs Minister, in the Rajya Sabha, said that India has taken efforts to ease the stand-off with China.
She further stated that war cannot resolve the problems and that the wisdom is to resolve issues diplomatically on the issue of border stand-off with China.
The Centre and the Opposition engaged in another verbal duel in the Rajya Sabha over India's statement at the last Bandung Conference in Indonesia.
A combative Swaraj also asserted that she felt proud when she attended the Bandung Conference and saw large pictures of Nehru at the venue, when Anand Sharma alleged that first Prime Minister Jawaharlal Nehru's name was omitted from the address delivered by Minister of State for External Affairs V.K. Singh at the 60th anniversary of Bandung Conference.
Sushma said the speech which Sharma was referring to was delivered at another Afro-Asian Conference held separately.
Nehru was one of the founder members of the Bandung Conference founded in 1955.
-ANI