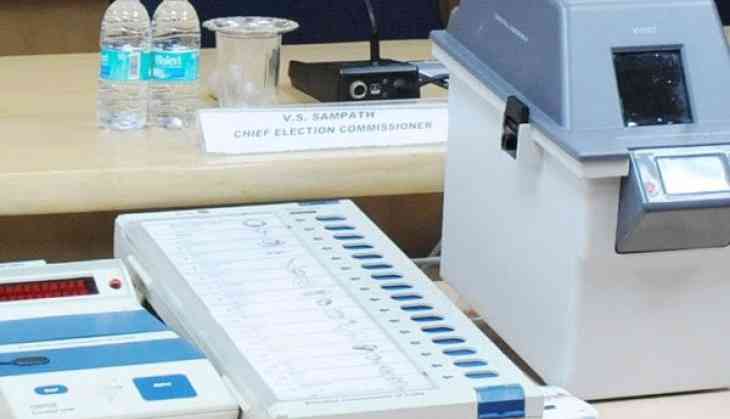 Opposition for conducting MCD polls through VVPAT machines, ballot papers (ANI)
With the Municipal Corporation of Delhi (MCD) elections inching closer, the opposition parties will today urge the Election Commission to conduct the upcoming polls partially through VVPAT (voter-verifiable paper audit trail) machines and ballot papers.
The opposition will pitch in the idea of conducting 50 percent of the voting through VVPAT machines and other half with the help of ballot papers.
Last week, the Election Commission of India (ECI) had in a veiled attack on Delhi Chief Minister Arvind Kejriwal said that baseless observations and allegations were made by a "leader of a political party today in a press conference regarding the use of EVMs" and clarified its position.
"The EVMs comprising the Control Unit (CU) and Ballot Unit (BU) used in any election shall be kept in a strong room after declaration of results and shall not be accessed by anyone till the period of filing of election petition is over. The election petition has to be filed within 45 days. However, in case of VVPAT machines, the printed paper slips have to be retrieved at the time of counting and sealed in a paper envelope and only these sealed paper slips have to be kept inside the strong room along with the EVMs. The VVPAT machines are not required by the law to be retained in strong room for the purpose of election petition and are available for use in any other election. However, in the on-going bye-polls only VVPAT machines which were kept in reserve and not used during the actual poll, have been redeployed," the statement said.
"The Commission would like to point out that these allegations are completely baseless and made without verifying the facts. No EVMs have been moved from Uttar Pradesh for the purpose of Bye-polls in Madhya Pradesh. Required number of VVPAT machines were moved from different States for use in Bye-polls as per the existing policy of the ECI," the statement added.
Kejriwal had earlier expressed doubts over the security features installed in the machines while demanding that the upcoming civic polls in the capital be conducted using paper ballots.
"It doesn't look like all machines are tampered. Some are being used in a few areas. I wrote to the EC today. We have the experts to study the software, if you don't have them. Give the EVMs to us. We will make the software public," Kejriwal said.
-ANI