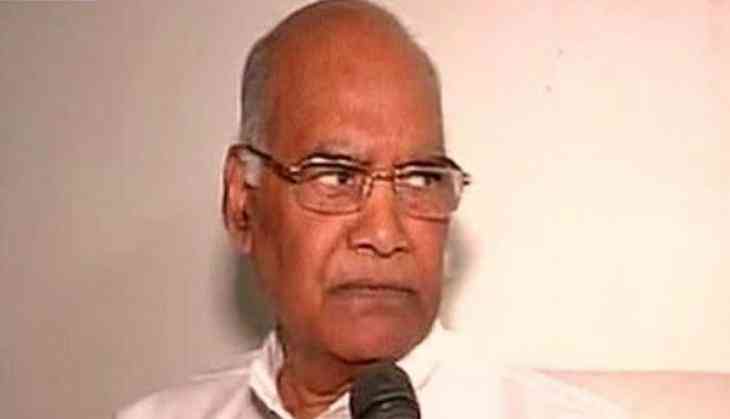 Opposition a divided house over Presidential election: BJP
The Bharatiya Janata Party (BJP) on Thursday said that the Opposition is a divided house over the Presidential elections as many of its partners have extended support to ruling National Democratic Alliance (NDA) candidate Ram Nath Kovind.
BJP's National Vice President Shyam Jaju told ANI that "today the Opposition seems a divided house as many opposition parties have extended support to Ram Nath Kovind. I think there shouldn't be politics in every subject and everyone should come forward to support Kovind as President".
He also lauded the NDA government for reaching out to all Opposition political parties for a consensus over the Presidential candidate despite having sufficient votes to get its candidate elected.
"The NDA took a new initiative in this Presidential election of reaching out to every political party despite having sufficient voting numbers. After talking with the Opposition, the NDA announced its candidate," Jaju said.
The opposition has alleged that the NDA finalised Kovind's name for the post of President without consulting them prior to the announcement.
BJP's charge comes ahead of the Opposition parties' meeting on Thursday evening to chalk out the strategy for the July 17 Presidential elections, which will be held in the backdrop of its partner Janata Dal (United) extending support to Kovind.
JD (U) leader and Bihar Chief Minister Nitish Kumar on Wednesday chaired a meeting of party leaders in Patna that decided to support Kovind for the President's post.
JD (U) has been a part of the opposition's joint initiative on the presidential elections.
However, Senior Congress leader Mallikarjun Kharge termed Nitish's support to Kovind 'his personal decision' and hoped that Janata Dal (United) will extend support to the opposition's presidential nominee as its senior leader Sharad Yadav in the all-party meeting had come up with the view of deciding on the presidential candidate once the Government declares its nominee.
Meanwhile, many non-NDA parties have supported Kovind that has jolted the efforts of Congress President Sonia Gandhi, who took initiative to bring all Opposition parties to thwart smooth sailing of the NDA's Presidential candidate.
She formed a sub-group for uniting the non-NDA parties over the elections for country's coveted post, which included: Congress leaders Ghulam Nabi Azad and Mallikarjun Kharge, JD(U) leader Sharad Yadav, Rashtriya Janata Dal (RJD) leader Lalu Prasad Yadav, CPI(M) leader Sitaram Yechury, TMC leader Derek O'Brien, Samajwadi Party's Ram Gopal Yadav, BSP's Satish Chandra Mishra, DMK leader R.S. Bharathi and NCP's Praful Patel.
Non- NDA party, the Telangana Rashtra Samithi has backed Kovind for President. A former NDA ally, Biju Janata Dal - has also backed Kovind's candidature. Another non-NDA party, Jagan Mohan Reddy led YSR Congress Party has given thumbs-up to Kovind.
Though Uttar Pradesh's two main non- NDA political parties- Bahujan Samajwadi Party and Samajwadi Party- have not extended support to the NDA's candidate but also didn't show strong opposition as Kovind is a Dalit who hails from Kanpur Dehat area of the state.
-ANI