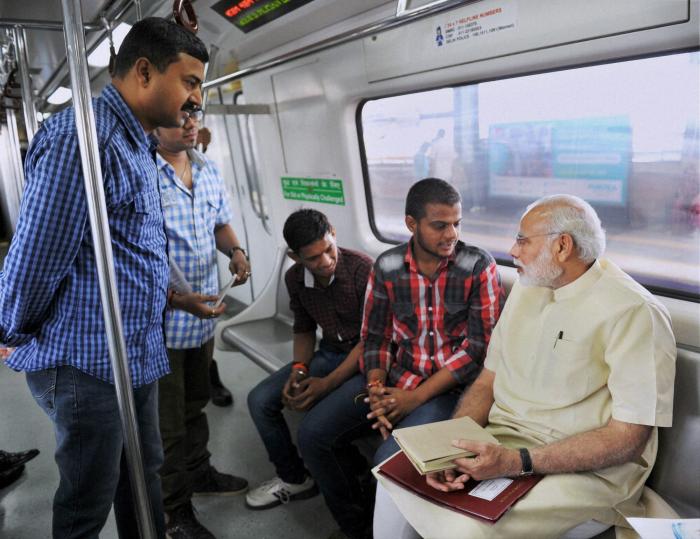 It was an interesting sight to see Prime Minister Narendra Modi board a metro during the inauguration of the Badarpur - Escorts Mujesar (Faridabad) line in NCR. During his ride, the PM also interacted with passengers in the Metro and took selfies with them. Modi was also accompanied by Union Minister Venkaiah Naidu and Haryana Chief Minister Manohar Lal Khattar.
Passenger takes 'selfie' with PM Narendra Modi in Metro pic.twitter.com/1aJB0DpK2P

— ANI (@ANI_news) September 6, 2015
After reaching the Sports complex in Faridabad, Modi started his speech by saying that 'Haryana is my second home' and after leaving Gujarat, he had spent most of his time in the state itself.
PM Shri @narendramodi travelling by Delhi Metro to the inauguration ceremony of Badarpur-Faridabad Metro Line pic.twitter.com/UHHnAlC8A0

— MIB India (@MIB_India) September 6, 2015
During his speech PM Modi spoke about a number of issues, including One Rank One Pension (OROP). Here are some of the key themes he touched upon.
On OROP
"When we analysed, we found that this OROP scheme cannot be implemented with just Rs 500 crore. It will require around Rs 8,000 to 10,000 crore. In our forces, most of the soldiers are on lower posts. Some people feel that those who left the Army will not get OROP, I assure that you too will get benefited by this."
"Some people are misleading the people and the Jawans of the nation on the issue of VRS. We assure you that OROP will cover those who were forced to take voluntary retirement from the Army."
"The government has taken a big decision and this is inspired by a feeling of patriotism, respect towards veterans. Many people are trying to do politics. Those who didn't do anything for 40 years have no right to speak on behalf of Jawans."
On development
"If there will be development, there will be employment, farmers will get benefits, children will get education and poverty-stricken will get homes. Hence, we are working on one agenda which is 'development'."
"The way ahead lies in taking everyone together, centre and states working together. Infrastructure is essential for progress."
On poverty
"Every poor person must get his/her own house. It's a difficult task, but we have to achieve it. Venkaiah Naidu has proposed a scheme through which poor people will be provided with homes with all the basic amenities."
On economic meltdown
"Economic analysts have claimed that during this economic slowdown worldwide, one nation that has stood stable is 'Hindustan'."
On Faridabad
"I've seen Faridabad developing. It has become a mini Hindustan."
"Haryana is today known for 'Beti Bachao, Beti Padao'. Moreover, Faridabad is mentioned in the list of smart cities."