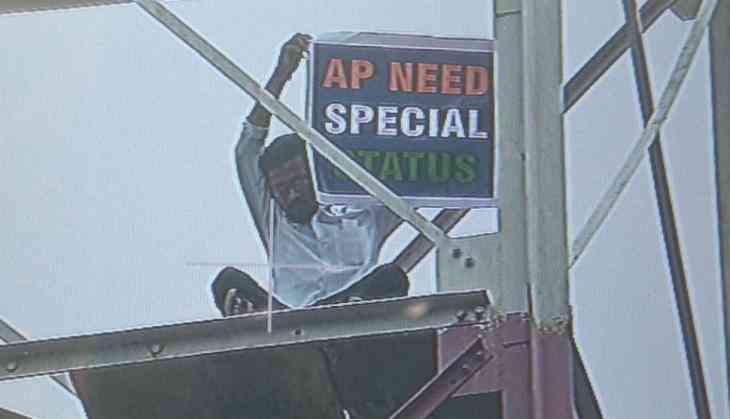 In a demand for a special status for Andhra Pradesh, a man on Friday climbed a mobile phone tower near Metro Bhawan in Delhi on Friday. The man was seen holding a banner that read, "AP need special status.
The man has been sitting there for one-and-a-half hours, Deputy Commissioner of Police (New Delhi) Madhur Verma said, adding that efforts were being made to bring him down. A fire tender has also been rushed to the spot.
A political battle over the special category status to Andhra Pradesh had led to the Telugu Desam Party(TDP) walking out of the NDA. Last week, the TDP moved a no-confidence motion against the government in the over the issue, although the move was defeated.
Police officials reached the spot once he was noticed and began trying to convince him to climb back down. A raging political battle regarding giving special status to Andhra Pradesh with TDP previously walking out of NDA and having since accused the government of going back on its assurances and promises.
A no-confidence motion was also brought about the last week in the Parliament and during the consequent debate, TDP's Jaydev Galla had said that the division of Andhra Pradesh to create Telangana had been unfair to Telegu people at large. However, the motion was eventually defeated by the BJP.
Also read: DMK chief Karunanidhi's health worsens: Tamil Nadu ministers, Kamal Haasan and AIADMK leaders pay visit; PM Modi wishes speedy recovery