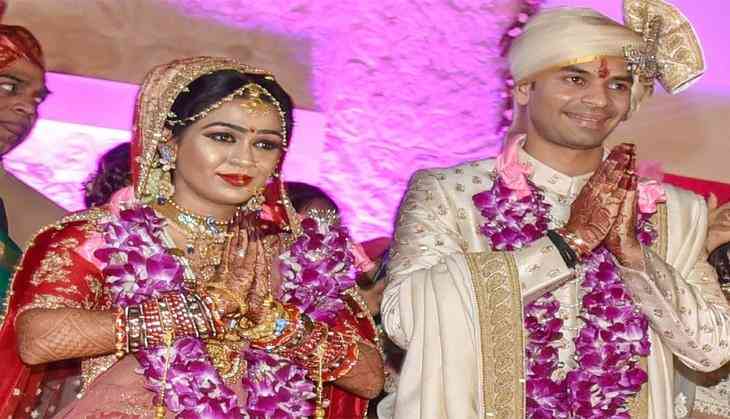 The high profile wedding ceremony of RJD supremo Lalu Prasad Yadav's elder son Tej Pratap stole the limelight not because of it's VVIPs guest appearance but something odd happened in the wedding that gave people butterfly in their stomach. On Saturday former Bihar health minister Tej Pratap tied the knot with Aishwarya Rai in a grand ceremony which was attended by thousands of people.
As there was huge public present in the ceremony, chaos prevailed at the wedding ceremony after an unruly crowd broke the cordon which was meant to separate the pandal meant for the genereal public, media and the VIPs. And the reason for the ruckus was as usual 'food'.
In no time when Tej and Aishwarya exchanged the garlands, a crowd broke the cordon and started stealing the food items and crockery. Soon the entire garden area where food counter was set was strewn with broken crockery and upturned tables and chairs, while a number of party leaders made a vain attempt to chase away intruders by wielding sticks.
As per reports, a rumour was spread that VIPs behind the partition were getting tastier food as compared to the 'general' people and that caused the ruckus in the wedding venue. However, it is believed that the people who created havoc are RJD supporters who were invited to the wedding. Caterers said the unruly crowd looted some of their utensils and other items.
Also read: Bihar: Four RJD worker killed in a road accident while returning from Lalu Prasad's son Tej Pratap and Aishwarya Rai wedding
Bihar Governor Satya Pal Mallik, Union minister Ram Vilas Paswan, Chief Minister Nitish Kumar and several of his cabinet colleagues, veteran socialist leader Sharad Yadav were also there to bless the couple. Even former Uttar Pradesh Chief Minister Akhilesh Yadav and his wife Dimple Yadav, NCP leader Praful Patel, Congress leader Digvijaya Singh and lawyer Ram Jethmalani came to the city earlier to bless the couple
Also read: Shocking! Son set the house on fire in Delhi; parents charred to death, arrested