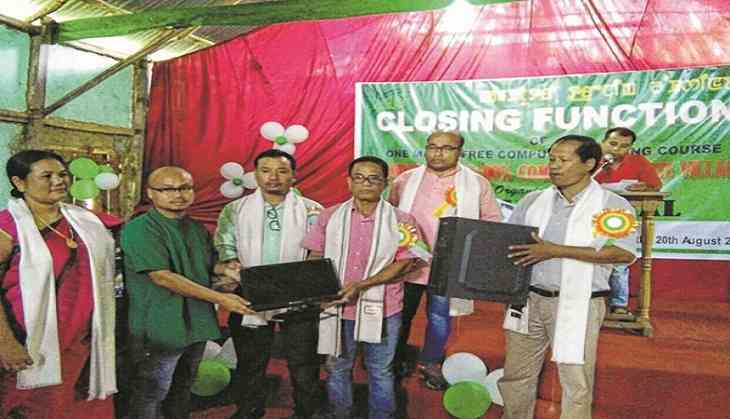 Manipur's Nungthaang Tampak village has emerged as the '100 percent computer literate' not only in the state but in the entire North East.
The training program was organised by Mangaal Rural, an NGO working for rural development.
The computer course, which is affiliated to All India Society for Electronic and Computer Technology (AISECT), was organised by Mangal Rural as a part of the Digital India program.
A total of 180 villagers out of 200 total population of the village participated in the program and now, would be capable to join the ever-changing journey of information and technology.
Director of Mangaal Rural, N. Surjit has stated that Nungthang Tampak has become India's second 100 percent computer literate village in India. Kerala's Chamravattom village is the country's first 100 percent computer literate village.
The training program kicked off on July 24 with four computer systems with one WiFi server and two master trainers provided free of cost by Mangaal Rural, based in Imphal.
The village, about 65 kms south of Imphal, is located in Saikot Assembly constituency of Churachandur district. This is a Kom village and has 45 households having a population of 200.
After the training program concluded, Surjit donated a computer set with WiFi connectivity and a solar power system to the village.
To ensure that all the villagers attend the course, classes were opened from 5 am in the morning and continued till midnight. A room at the church premises was used as the classroom. The two trainers were provided camped at the village during the course.
Surjit explained that as the villagers had to go to paddy fields and other works, the classes remained open throughout the day and night so that all of them could join the class when they were free.
A 23-year-old housewife Mangte Shashniya said "I always dreamt of learning computer knowledge and I always prayed. When I married young I did not see any opportunity of learning it. But today I know the basics I thank Mangaal Rural."
The villagers were taught how to surf, compose text, save them, photoshop, send e-mail, store data and get print outs, etc.
-ANI