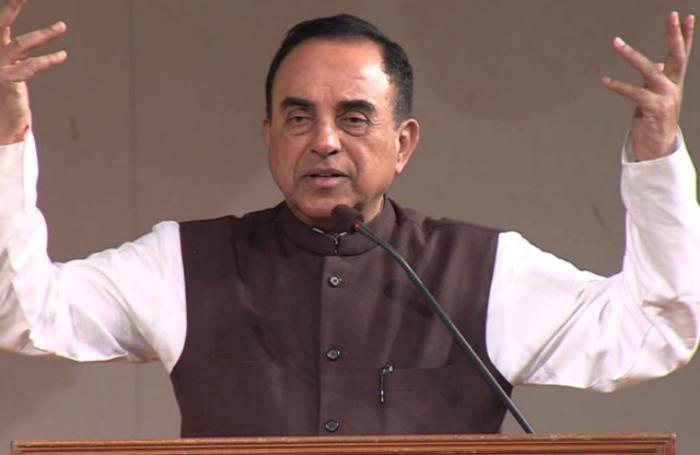 Yesterday, social media went into a tizzy when rumours started doing the rounds that the HRD Ministry offered Subramanian Swamy the post of Vice Chancellor of the influential Jawarharlal Nehru University. Yes, more on that bit of news here.
Read More:
Subramanian Swamy to take over as next vice-chancellor of JNU?
The BJP leader did not really clear the air regarding the rumours, but chose to remain ambiguous about it. He tweeted, "Media is on fire that I have been offered the JNU VC post. No formal offer nor will there be if the Govt cannot meet my pre-conditions." So there are pre-conditions then?
But Swamy further added fuel to the rumours today with this tweet:
I think JNU needs an Anti Narcotics Bureau campus branch office to raid dorms and arrest Naxals, jehadis and Elis. BSF camp also

— Subramanian Swamy (@Swamy39) September 24, 2015
So has the Harvard-educated leader really been offered the post that he is already tweeting about the things that he 'thinks' are required at the JNU? Wonder what JNU students are thinking about Swamy's suggested course of action.
Here are some reactions to his post:
If Subramanian Swamy bcomes d JNU VC,this leftist campus wl turn rightist overnight!Fear d RSS wl curtail free speech in this vibrant campus

— Sonia Sarkar (@sonia_26) September 24, 2015
@Swamy39 Sir you forgot to mention a bomb disposable squad .In all probability they have a SSI unit for bombs

— Design Bandit (@arroworks) September 24, 2015
@Swamy39 If you became VC there, the Comrades will say- Gajendra Chouhan bhi chalega... dont send Swamy

— IndiaFirst (@milindarolkar) September 24, 2015
@Swamy39 I'd assume the BSF must have other (far) more important affairs to attend to rather than being stationed at a college campus. #Dolt

— Nupur Parik (@DrNupurParik) September 24, 2015