Somi Das
| Updated on: 13 July 2015, 13:26 IST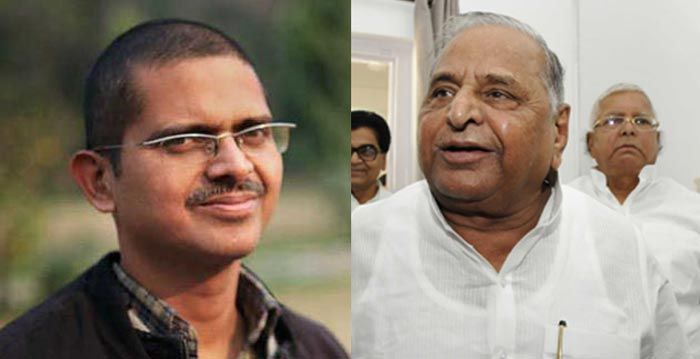 A day after senior IPS officer Amitabh Thakur claimed that Samajwadi Party supremo Mulayam Singh Yadav had threatened him over a phone call, a woman filed a rape case against him. Thakur called it a 'return gift' from Yadav and vowed to expose the political-criminal-administration nexus in UP.
Thakur has been an eyesore for the UP government for some time now. Along with his wife Nutan Thakur, who is also an RTI activist, he has taken on the SP government several times. He has been transferred over 20 times in his career spanning two decades.
It is always difficult for upright officers to make things work in a system that is inherently corrupt. Here's a list of five bureaucrats who despite being harassed by their political bosses, managed to do their job honestly.
1. Ashok Khemka - The Haryana IAS officer has been transferred 45 times in 23 years. Best known for cancelling Sonia Gandhi's son-in-law Robert Vadra's land deal with DLF in Gurgaon, the whistleblower was chargesheeted for "causing damage to Robert Vadra's reputation" and "illegally" cancelling the deal. When in Opposition, the BJP supported Khemka's claim of persecution from the ruling Congress in Haryana. Once in power, BJP too couldn't deal with his honesty.
Khemka was removed as Transport Commissioner and shifted to the low profile Archaeology and Museums Department in April this year. Khemka had apparently irked the politically powerful mining lobby in Haryana by ordering district officials to penalise overloaded vehicles. Back then he had tweeted: "Tried hard to address corruption and bring reforms in Transport despite severe limitations and entrenched interests. Moment is truly painful."
2. Rahul Sharma - The Gujarat IPS officer was one of the few officers who helped piece together the involvement of the administration and politicians during riots in his state. Posted in Bhavnagar as the district police superintendent during the riots, he opened fire against a Hindu mob that was on its way to torch a Madrassa. Later, during his stint as the DCP at the Ahmadabad police control room, he collected details of calls made by politicians and policemen during the riots.These critical details led to the arrest of riot-accused and former member of Narendra Modi's cabinet, Maya Kodnani and VHP leader Jaydeep Patel.
Despite having helped the investigation, the Gujarat government charged him under the Official Secrets Act. He took premature retirement earlier this year, while he continues to fight his legal battle against the government in the Central Administrative Tribunal.
3. Durga Shakti Nagpal- The 2010 batch IAS officer from Uttar Pradesh made news for her massive drive against the powerful mining mafia in Gautam Budh Nagar. In 2013, she detained several vehicles and people engaged with the illegal sand mining in Ghaziabad region. Soon, she faced the consequences.The Akhilesh Yadav government suspended her on the grounds that she ordered the demolition of a wall of an under-construction mosque in Kadalpur village. However, following protests, her suspension was revoked.
4. DK Ravi- The Karnataka IAS Officer came into limelight after he cracked down on illegal encroachment of government lands and rampant sand mining in Kolar district. Within fourteen months of his service, the Karnataka government transferred him to Bangalore. During his next assignment as the Additional Commissioner of Commercial Taxes (Enforcement) in October 2014, he conducted some major tax raids on Real estate firms. Five months into his tenure he was found dead at his residence in Bangalore on 16 March 2015, under suspicious circumstances. Following protests by his family members, who suspected foul play, a CBI probe was ordered.
Media reports suggest that Ravi's death was not directly linked to his work. However, the Siddaramaiah government has been accused of deliberately trying to slander the dead officer by leaking information about his alleged affair with a batchmate.
5. Anand Swaroop- Another UP cadre who has been tormented by the government for his "no-nonsense" attitude of functioning, Anand Swaroop has been transferred 38 times in 20 years. He has been targeted by both SP and BSP governments. Apart from taking on the political dispensation, he is also known for his unconventional approach to addressing law and order problems. A staunch believer of the fact that criminals can be reformed, Swaroop tore up the history sheets of reformed criminals twice in his career.