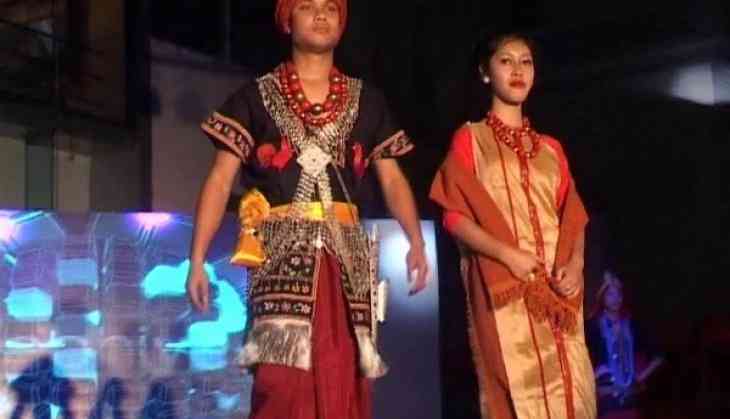 The second edition of Northeast Fiesta, organized by the Northeast students' organizations in association with 'MBD NEOPOLIS' was recently held in Jalandhar.
The-two days Northeast Fiesta showcased the rich culture and tradition of the northeastern states.
Folk dance, music, art exhibition, ethnic cuisines etc formed part of the two-day festival, which drew huge crowds.
Northeast students from different universities, colleges of the region gathered to witness the fusion of northeast diversified culture with the rich culture of Punjab.
Besides, promoting the culture, traditional dresses and designs etc of the northeast region, the event also aimed at unifying students through cultural exchange.
"Of course, we are here to study but not only to promote education wise but also to exchange our culture so I think this place offers a lots of opportunity for us to not only to pursue our education but also to get to know different culture between Punjabi and northeast people," said a student from Lovely Professional University.
However, young and jubilant artistes from the state of Punjab mesmerized the crowd with their peppy numbers.
"It feels really great to work with students because every time when we work with students we learn a lot. This event is all about exchanging the culture because it is for the first time it is happening in Jalandhar, Punjab that we are exchanging northeastern culture with Punjabi culture. We have fashion show, cultural exchange folk dance, bhangra performance etc so it's a combination of exciting things. It is a combination of 8+1 states and 1 is Punjab. It's really a great thing," said Event Director Abhishek Sharma.
Various stalls displaying an array of items like the traditional shawls of Nagaland, the handwoven mekhala chador of Assam, ethnic jewelleries etc were also put up at the event.
While students from Meghalaya exhibited the monolithic replicas, products made from Yak hair and paintings.
Assamese students depicted the undefeated era of the Ahom dynasty by showcasing the replica of Sanghar, the oldest amphitheatre in Assam. They also displayed the two-horned rhino made of thermocol and also traditional musical instruments like Bahi (flute), Taal and Pepa.
"We want to promote more of our states so that we can build up a link with Punjab's culture. There are so many NRI's residing here and our motive is to showcase Northeast culture to the entire world so that we developed further with more students involving in the process of development," said Northeast Student Organizations General Secretary Mandeep Datta.
Moreover, an interesting photo exhibition depicting photographs on various social issues was also organized that boost up the morale of the young and enthusiast photographers.
Also, a food corner offering northeastern delicacies attracted people from all walks of life.
Organizing such event will go a long way in strengthening the cultural linkages of various states and creating a platform to experience and understand each other's culture.
-ANI