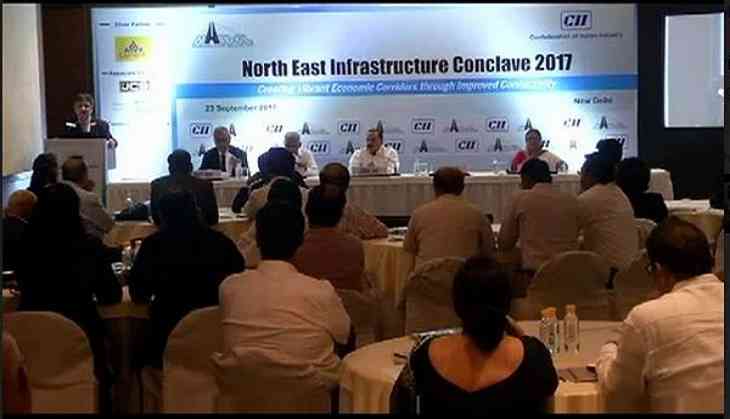 Northeast infrastructure conclave was recently held in New Delhi to highlight the business potential of the region.
To bring the region's potential to investors' notice, Confederation of Indian Industry (CII) recently organised Northeast Infrastructure Conclave in New Delhi. The event brought various stakeholders and investors together.
"There has been a tremendous ease of business compared to what it was in the earlier year. Not only northeast, the entire country of India is very fast emerging as a favorite destination for investors within and overseas," Union Minister of State (Independent Charge) of the Ministry of Development of North Eastern Region (DoNER) Jitendra Singh said
"As trade leaders you understand that to expand trade, business and return and output you need to explore the area which have remained unexplored and northeast is a huge potential area which has remained unexplored due to different priorities. If this is brought into focus, it in fact serves the cause of the entire country if we wish to have a GDP to the level that we are envisaging for ourselves you cannot on the strength of the GDP from the West and at the East dragging it down in spite of the fact that it is capable of pushing it upward," he added.
The conclave also shed light on the significance of India's 'Act East Policy' which aims to promote economic cooperation, cultural ties and develop strategic relationship with countries in the Asia-Pacific region through continuous engagement at bilateral, regional and multilateral levels, thereby providing enhanced connectivity to the northeastern states.
Northeast India has been a priority under the 'Act East Policy' as it provides an interface with the ASEAN region thereby boosting socio-economic trade and business with the neighboring Southeast Asian countries.
"The necessity and importance of strengthening connectivity is ample. For Northeast region it's a stone development and for India its balance development and inclusive growth. It is also a catalyst for Bangladesh, Bhutan, India and Nepal for utilizing comparative advantage efficient access to see from landlocked countries and areas and of course it is a gateway between India and ASEAN for vast economies and markets," AMIT GOSSAIN, Managing Director of KONE India said.
The conclave invited investors to explore the full potential of the northeast region and contribute to the process of India emerging as a global economic power.
While addressing the conclave, Jitendra Singh highlighted on the permanent outlet named "Purbashree" being set up at Dilli Haat which showcases unique textile and handloom products from the region that is already attracting visitors from all across India and even abroad.
Singh said a venture capital fund for northeast region with North Eastern Development Finance Corporation Ltd (NEDFI) had been set up to provide capital for startups in northeast region.
-ANI