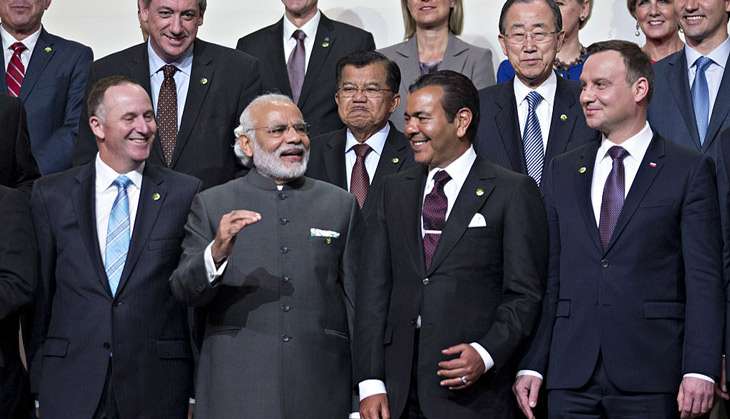 The 48-member Nuclear Security Group (NSG) is holding a special session to decide whether or not to extend the membership of the elite group to non-signatories of Non-Proliferation Treaty (NPT) like India and Pakistan.
While the meeting is currently progressing, it has emerged that the member countries have failed to arrive at a consensus on the issue. Many countries have joined China in opposing India's bid. Brazil, Austria, New Zealand, and Turkey are against India's entry into NSG. However, Mexico has backed India's induction into the nuclear club.
Earlier today, Prime Minister Narendra Modi met President Xi Jinping on the sidelines of Shanghai Cooperation Organization (SCO) Summit in Tashkent and urged China to make a fair and objective assessment of New Delhi's application to NSG and to judge it on its own merit.
Briefing the media about the meeting, Ministry of External Affairs official spokesperson Vikas Swarup said that Prime Minister Modi had asked China to contribute to the emerging consensus in the ongoing NSG plenary meeting in Seoul.
"In fact, the rest of the meeting was devoted to this issue. Prime Minister Modi urged China to make a fair and objective assessment of India's application and judge it on its own merit," Swarup said.
"He (Prime Minister) said China should contribute to the emerging consensus in Seoul," Swarup quoted Prime Minister Modi as saying.
Prime Minister Modi earlier held delegation level talks with Chinese President Xi Jinping.
Swarup also informed that during the meeting President Xi welcomed India's accession to the Shanghai Cooperation Organization (SCO) and said it would strengthen it.
"Prime Minister Modi thanked President Xi for China's support for India's membership of the SCO," he added.
China had earlier on Wednesday again changed track on India's entry into the elite club, saying only applications of those countries that signed the NPT will be considered.
The countries, who oppose India's membership, argue that its inclusion in the group would further undermine efforts to prevent proliferation and also infuriate New Delhi's rival Pakistan.
Islamabad, which enjoys the backing of its close ally China, has also responded to India's membership bid and asked for its admission as well.
Pakistan Prime Minister Nawaz Sharif's Adviser on Foreign Affairs Sartaj Aziz had said that the government's "active and successful foreign policy" has blocked India's entry into the NSG, adding that New Delhi would not be able to join the group alone.
He also said that he had recently approached many countries, including Russia, Mexico, South Korea and New Zealand, to gain their support on Islamabad's viewpoint that there should be a criteria-based approach while deciding about the inclusion of any country into the NSG.
--With inputs from ANI