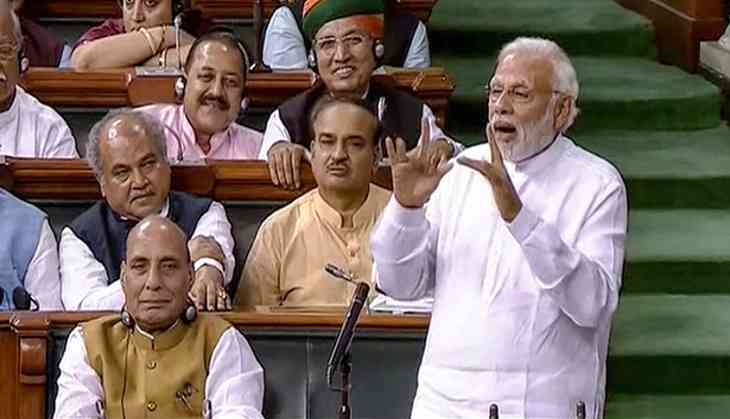 The Prime Minister Narendra Modi lashed out at Congress president Rahul Gandhi over his jumla jibe during the debate on a no-confidence motion against his government. Congress chief Rahul Gandhi called out Modi said he is 'chowkidar' but he is actually a bhagidar of black money. Gandhi also called Modi's promises to the people of India a 'Jumla,' responding to which PM Modi urges Congress to make his fun but not to call a Surgical strike a 'Jumla strike'
"I appeal to the Congress to stop calling the Surgical Strikes as 'Jumla Strikes.' They can continue abusing me, my poverty, my background….but please stop mocking the armed forces," says PM Modi slamming Rahul Gandhi.
"The fight against corruption and black money will continue. Due to this, I know that many vested interests, who have enjoyed the gravy train for 7 decades hate me but that is fine. We are here to serve the poor, the marginalised and the weak," PM Modi said in his speech during no-trust motion in the parliament.
Rahul Gandhi also stated that BJP calls him Pappu but still he never hated them ever. After concluding his speech Rahul went to PM Modi and hugged him and winked him after that. To which BJP calls 'hopeless man ever'.
"Rahul Gandhi winks after hugging PM Modi in Lok Sabha hopeless man ever," PMO tweeted.
As expected, the PM Modi government won the no-confidence vote comfortably, with 325 votes, way ahead of the 226 it needed.