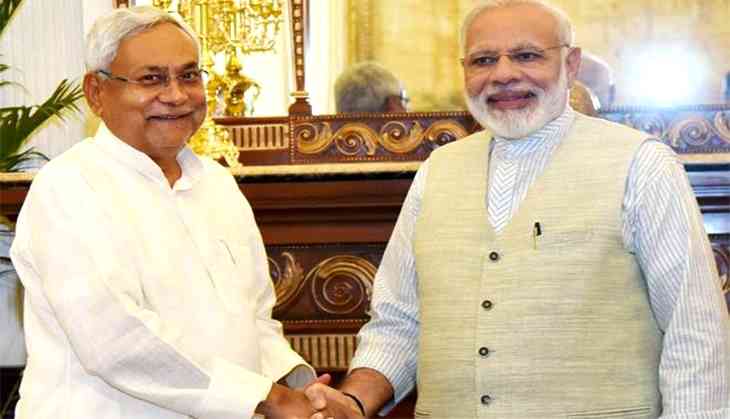 Nitish thanks PM Modi for 'congratulating' him on his resignation
Nitish Kumar, who resigned as Bihar Chief Minister earlier in the day, has thanked Prime Minister Narendra Modi for 'congratulating' him after his announcement.
"Whole heartedly thank PM Modi for response through his tweet about our decision," Nitish tweeted.
हमने जो निर्णय लिया उसपर माननीय प्रधानमंत्री @narendramodi के ट्वीट के द्वारा दी गई प्रतिक्रिया के लिए उन्हें तहेदिल से धन्यवाद.

— Nitish Kumar (@NitishKumar) July 26, 2017
The dissonance in the Bihar politics came ostensibly to the fore-front when on Wednesday evening Chief Minister Nitish Kumar resigned from his post, thereby, ending the 'mahagathbandhan'.
Nitish handed over his resignation to Governor Keshari Nath Tripathi and confirmed it to the media even as he emerged after meeting him.
"The Governor has accepted my resignation. I did everything a chief of a party in alliance should do. I myself have given away the post. Now, you will have to wait and see what happens next," he said.
The development came hours after Rashtriya Janata Dal (RJD) chief Lalu Prasad Yadav earlier in the day took a jibe at Nitish Kumar, saying he was aware of his longtime friend's party's - Janata Dal (United) (JD(U)) - growing bonhomie with the Bharatiya Janata Party (BJP).
Following this, Prime Minister Modi took to Twitter to "congratulate" Nitish.
"Huge congratulations to Nitish Kumar that he quit in the name of going against corruption. The 125 crore people of India support him," he posted.
भ्रष्टाचार के ख़िलाफ़ लड़ाई में जुड़ने के लिए नीतीश कुमार जी को बहुत-बहुत बधाई।
सवा सौ करोड़ नागरिक ईमानदारी का स्वागत और समर्थन कर रहे हैं

— Narendra Modi (@narendramodi) July 26, 2017
देश के, विशेष रूप से बिहार के उज्जवल भविष्य के लिए राजनीतिक मतभेदों से ऊपर उठकर भ्रष्टाचार के ख़िलाफ़ एक होकर लड़ना,आज देश और समय की माँग है

— Narendra Modi (@narendramodi) July 26, 2017
While the Congress is disappointed with Nitish's decision, the BJP has welcomed the move.
-ANI