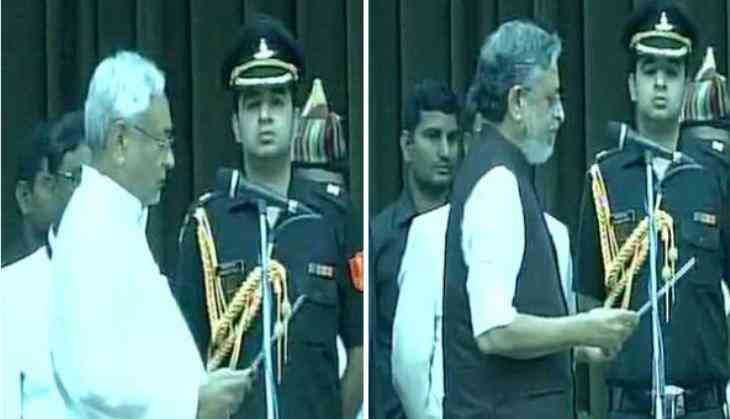 Jan Adhikar Party (JAP) leader Pappu Yadav on Thursday welcomed Janata Dal (United) supremo Nitish Kumar's decision to resign as Bihar Chief Minister but said Kumar took the decision in hurry.
Nitish Kumar on Thursday took oath as Bihar Chief Minister. Bharatiya Janata Party (BJP) leader Sushil Modi also took oath as Deputy Chief Minister.
Bihar Governor Kesrinath Tripathi administered oath to Kumar and Modi at Raj Bhavan.
Talking to ANI, JAP leader and Madhepura MP Pappu Yadav said, "I welcome Nitish Kumar's decision to resign on the basis of corruption. But, he has to explain his earlier statements on Sangh (Rashtriya Swayamsevak Sangh) free India, working on Gandhian ideology, Ishrat case, etc. I believe that Nitish Kumar has taken the decision in hurry. I blame Lalu Yadv for not showing any efforts to save 'mahagathbandhan' in Bihar."
Meanwhile, JD (U) leader Ali Anwar also on Thursday said that his conscience is not allowing him to accept Kumar's decision.
"My conscience is not allowing me to accept Nitish Kumar's decision. I do not support his decision. If I get an opportunity then I will definitely keep my views in front of my party," he said.
Nitish on Wednesday tendered his resignation as Bihar Chief Minister against Deputy Chief Minister Tejashwi Yadav's decision not to quit after being named in F.I.R. over a corruption charges.
Meanwhile, the political uncertainty in Bihar that loomed in on Wednesday after Kumar took oath of chief minister.
Kumar's former ally Rashtriya Janata Dal (RJD) on Thursday cancelled its protest march to Raj Bhavan to oppose Kumar's swearing-in ceremony due to the probationary orders.
The RJD is claiming that it has support of more than half of the JD(U) MLAs and they have every right to stake claim to form government, as their party is the single largest party.
-ANI