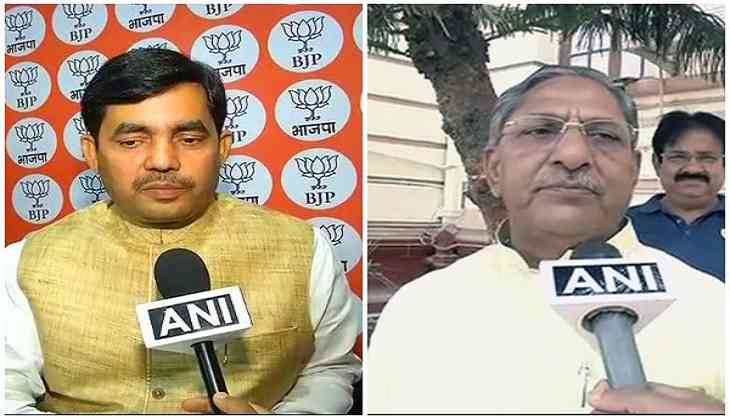 Appreciating the Supreme Court's order to conduct a criminal trial of Rashtriya Janata Dal (RJD) chief Lalu Prasad Yadav in the fodder scam case, the Bharatiya Janata Party (BJP) on Monday said that there is no law and order in Bihar as the Chief Minister Nitish Kumar himself is involved with the culprits.
"Nitish ji used to say that he will not compromise with any corruption, but now he has an alliance with fodder scam culprits. This shows there is no law and order in Bihar," BJP spokesperson Shahnawaz Hussain told ANI.
He added that the BJP supports the judgment of the apex court.
Echoing similar sentiments, another BJP leader Nand Kishore Yadav said that Bihar has been facing difficulties because of the fodder scam.
"It's natural that you get what you deserve. I don't understand why Nitish Kumar is in alliance with such culprits. We will accept law of the Supreme Court and see the judgment," he added.
In a major setback to Lalu Prasad Yadav, the Supreme Court today allowed the Central Bureau of Investigation (CBI)'s plea challenging the Jharkhand High Court's order of dropping charges against the former Bihar chief minister in the fodder scam case.
53 cases were registered for embezzlement of funds on the pretext of buying fodder for cattle.
In 2014, the Jharkhand High Court had given relief to the RJD supremo and others by dropping charges of criminal conspiracy, criminal breach of trust and prevention of corruption in the fodder scam.
The court had quashed the cases on the grounds that a person convicted in one case could not be tried in similar cases based on same witnesses and evidences.
However, the CBI had contended that though the cases have arisen from the fodder scam, they are different in nature as different amounts were involved from different treasuries.
The apex court earlier on April 20 reserved its judgment in the case and asked all parties concerned to give their submissions within a week.
The court also heard the plea filed by RJD supremo challenging his jail sentence in connection with the mid-1990s fodder scam case.
The fodder scam relates to fraudulent withdrawal of around Rs. 1,000 crore by the Animal Husbandry department from various districts when Lalu was the Bihar chief minister from 1990 to 1997.
-ANI