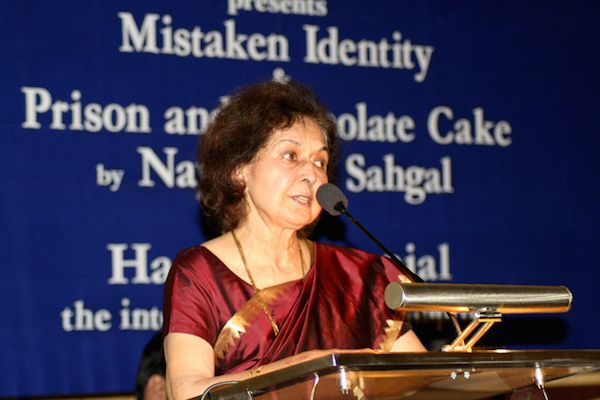 Writer and political commentator Nayantara Sahgal, 88, returned her Sahitya Akademi (India's Academy of Arts and Letters) Award on 6 October in protest to the government's failure to protect cultural diversity in the country.
Explaining on The Wire, Sahgal wrote, "In memory of the Indians who have been murdered, in support of all Indians who uphold the right to dissent, and of all dissenters who now live in fear and uncertainty, I am returning my Sahitya Akademi Award."
"Rationalists who question superstition, anyone who questions any aspect of the ugly and dangerous distortion of Hinduism known as Hindutva - whether in the intellectual or artistic sphere, or whether in terms of food habits and lifestyle - are being marginalised, persecuted, or murdered," she added. "In all these cases, justice drags its feet. The Prime Minister remains silent about this reign of terror. We must assume he dare not alienate evil-doers who support his ideology."
Writer and Nehru's niece Nayantara Sahgal returns her Sahitya Akademi award in protest against govt failure to safeguard cultural diversity

— barkha dutt (@BDUTT) October 6, 2015
Earlier this year, Sahgal told The Hindu that the idea of India needs to be protected. "Unfortunately, today, we are ruled by people whose mindsets belong to the Dark Ages. We are being governed by people who are fascists by mind and ideology. The country is going through dangerous times," she said.
India's first Prime Minister's niece, Sahgal has always been an independent commentator on Indian politics. She was a vocal critic of Indira Gandhi's government in her columns and book, Indira Gandhi: Her Road to Power. Apart from various national and international publications, Sahgal also wrote for Jayaprakash Narayan's paper Everyman's Weekly.
She has authored nine novels, eight non-fiction books, and a collection of short stories. She received the Sahitya Akademi Award in 1985 for her English novel Rich Like Us.
Read her first person account here