[email protected]: Modi hits out at Opposition on corruption, says its a battle between vikaswaad and virodhwaad
Prime Minister reached India gate, highlights from his speech
Prime Minister Narendra Modi launched an attack at the Opposition. Says the reason the Opposition parties are up against him because his government is fighting corruption. Here are the main hightlights from his speech:
In the next 3 years we will bring LPG connections to 5 crore people: PM Modi at India Gate #2YearsOfModiGovt

— ANI (@ANI_news) May 28, 2016
What will people who get affected due to the steps taken by the Govt to stop corruption do if not criticise?: PM Modi at India Gate

— ANI (@ANI_news) May 28, 2016
In our campaign to stop corruption, we saved over Rs 36000 crore leakages: PM Modi at India Gate #2YearsOfModiGovt

— ANI (@ANI_news) May 28, 2016
You can watch the entire discussion on Beti Bachao, Beti Padhao here
Ad guru Piyush Pandey is on the panel with him. He says in 2014, Narendra Modi gave out a call for fourth battle from Panipat. But the battle wasn't against enemy but against a mindset that makes people choose sons over daughter.
PM to join shortly
Will join 'Ek Nayi Subah' programme shortly. You can join live. https://t.co/jzzDvIvnyr

— Narendra Modi (@narendramodi) May 28, 2016
According to former Infosys director Mohandas Pai: "Digital India is the largest programme of its kind in the world. 1.25 billion people will be on one platform. It will transform the country."
Devendra Fadnavis on skill development
"If t'he economy has to be strengthened, women will have to be skilled. This is what the government doing: Maharashtra Chief Minister Devendra Fadnavis.
VK Singh on Skill development
Before people used to think that we will get some government jobs. But now the mindset is changing with Narendra Modi's focus on skill development, what can be better than this for the youth. We have prepared them to move forward: VK Singh
Government should be credited for spreading awareness about building toilets: Vidya Balan
I have never hesitated in being a part of the aha soch waha sauchalay campaign . Once I was going to a village for a shoot and I need to use the loo. But I couldn't find any. Just a few months after that, I got the opportunity to associate with the campaign. I had to face problem only once, I wonder how many women have to go through the experience every day --Vidya Balan, Bollywood actor
About existing problems about the campaign she said:
"There are toilets in some places but there is no water. There are also some people who despite toilets do not like using them --Vidya Balan.
18,000 villages still don't have electricity: Ram Vilas Paswan
Since Narendra Modi has seen poverty in his life, that's why he is focussed on the policy of power to the poor: says Ram Vilas Paswan.
We will be successful in our pursuits of not only electrifying not only people's homes and villages but our people's mind: Najma Heptullah.
BJP government has done the most for villages. Electrification has led to reverse migration. That's why there is scarcity of labouerers from UP, Bihar in prosperous states: BJP leader Manoj Tewari.
Dalits have benefited from Narendra Modi's electrification scheme: Ram Vilas Paswan.
Have warned industry to follow our zero discharge policy to keep Ganga clean: Uma Bharti
Ganga is one of the 10 most dirtiest rivers, by 2018 it will be among the top 10 cleanest rivers.
23 per cent girls dropout of school because of lack of toilets says Neeraj Jain of Voters and India.
Chaudhary Birender Singh says that there is connection between cleanliness and health. He says Manipur ranks number 1 in terms of cleanliness and Number 2 in terms of sports. On the otherhand Bihar ranks Number 15 in sports and 23 in cleanliness.
Uma Bharti says women that lack of toilets for menstruating girl students is a reason for high dropout rate.
Read More: #Modi2: How PM Modi transformed our thinking with the launch of Swachh Bharat Abhiyan
Uma Bharti talks about importance of providing sanitary napkins in school toilets #InternationalMenstrualHygieneDay pic.twitter.com/mqwnFqoMPJ

— Catch - Speed News (@Catch_Live) May 28, 2016
Improvement in gender ratio: says BJP leader Harvinder Kalyan
BJP leader Harvinder Kalyan says that Haryana government is working towards creating a safe environment for women in the state. He is accompanied by his daughter who works for the development of rural India.
Maneka Gandhi speaks about child line, adoption centres and foster care
Union Cabinet Minister for Women & Child Development Maneka Gandhi says under the Modi govt there are 30,000 child homes.
Khoya paya scheme for missing children. Has helped recover more than 100 children.
Union Minister of Health JP Nadda speaks about the Indrashanush immunization scheme.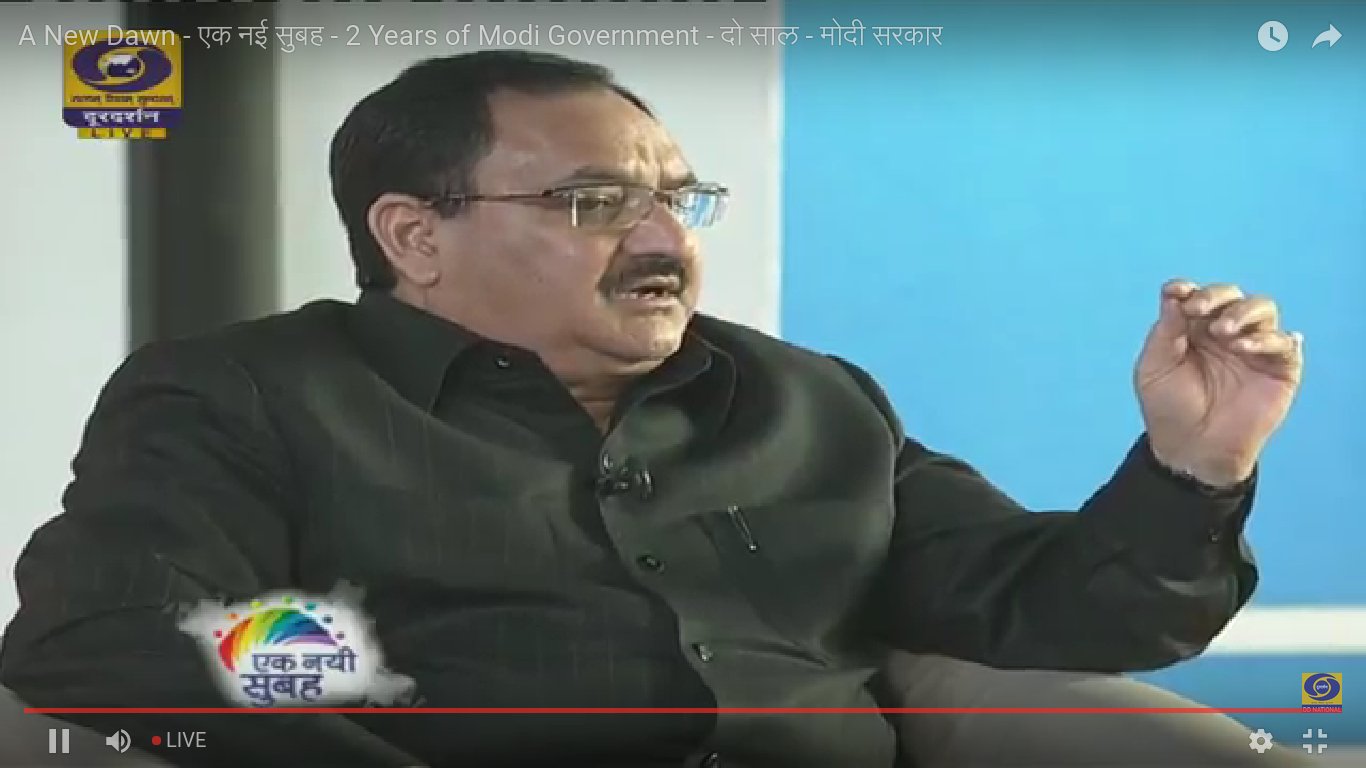 Harsimrat kaur talks about govt schemes
Kaur is joined by Raveena Tandon, who has two adopted girls. Actor Raveena Tandon says she says that Modi government has furthered the cause of women after coming to power.
Madhavan adds: "I think the empowerment of women is a lot about conditioning. I was brought up in such a way that I have never signed a film where I would have to hit a woman. I think mothers can play a great role in this kind of upbringing."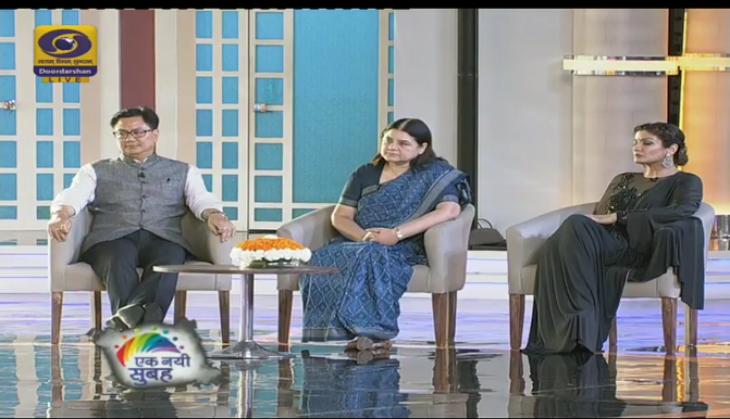 'We have achieved more than 75 per cent of our target in Swachch Bharat Abhiyan'
Rural Development Minister Chaudhary Birender Singh talks about Swachch Bharat Abhiyan. Says 75 per cent target has been achieved.