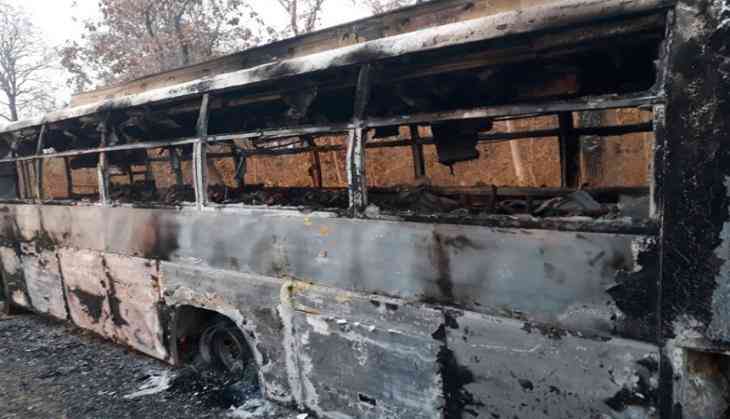 In reply to the recent encounter in Bijapur that killed 10 Naxals, the Maoists on Monday night torched three buses and trucks and killed a man near Penta area of Chhattisgarh's Sukma district.
Posters and banners have also been found, mentioning that the attack on the buses was a revenge to the recent Naxal encounter in Bijapur.
The man has been identified as Munna Sodi, an ex-constable, who was terminated from his services.
All these buses were heading towards Telangana from Dantewada, Jagdalpur and Malkangiri via Sukma.
"Munna Sodi was most apparently travelling in one of these buses from Sukma to his village Manikonta, which is ahead of Penta," said DIG South Bastar Sundarraj P.
"There were three buses and it can be a case of personal revenge. The victim had murdered his wife in 2012 and was released in 2017. There are also reports that her brother was in Naxals. They stopped buses to search for him only," SP Sukma Abhishek Meena.
Last week in an anti-Naxal operation by Telangana and Chhattisgarh state police, at least 10 Naxals, including six women, were killed in Chhattisgarh's Bijapur district.
"Telangana Police's Greyhounds swooped on a Naxal camp in the district in which a personnel of the elite force also lost his life. The bodies of the Naxals and martyred Greyhound have been taken to Bhadrachalam in Telangana by an IAF chopper for post-mortem," the officials said.
Police recovered an AK-47, an SLR rifle, five INSAS rifles, one .303 rifle, a pistol, a Sony wireless set, three laptops, detonators, Rs 41,000 in cash, and other explosive materials and literature from the site.
--ANI