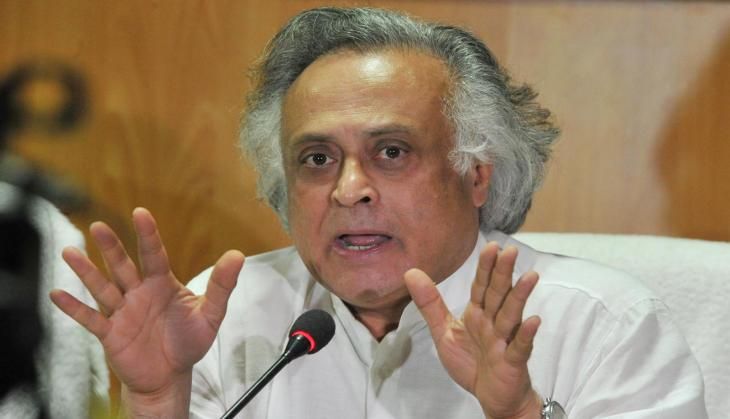 Expressing his anguish over the massive fire at Capital's Natural History Museum, former environment minister Jairam Ramesh said that this incident must act as a wake-up call for all buildings.
"I feel very sad and anguished at this incident. All our buildings are fire hazards. I hope this incident acts as a wake-up call for all our buildings," Ramesh told reporters.
Also read: Environment Ministry orders fire audit after National Museum of Natural History is gutted
"When I was the minister of environment, I used to come here frequently. In fact, I had got land for them next to the zoo. About six acres of land I had got for them between Pragati Maidan and the zoo so that they can be relocated. This is not the right location for the museum. But for some reason, the relocation has not taken place. Later on, I had offered them land even in Noida near the Botanical Garden. This museum requires more space. It is very cramped here," he added.
Minister of State for Environment, Forests and Climate Change Prakash Javadekar has ordered an energy and fire audit of all the 34 museums across the country.
"This incident is very tragic. The Natural History Museum is a national treasure. I have talked to the fire officials and they are present at the site. We will see and access the loss that has taken place," Javadekar told the media after visiting the site.
"I have ordered energy and fire audit of all our establishments all over the country because we have 34 museums, ZSI and BSI, all put together. We will take care that such incidents don't happen," he added.
Javadekar also said that the building was on a rented property of the FICCI, adding the ministry thus had its limitations. "See, the issue is that it is a rented property. It is not our ministry's property and it's a FICCI property and, therefore, we have limitations. This is a real loss and we will access the loss when the building is handed over to us. After that we will see how the recovery plan can be made," he said.
The fire broke out in the wee hours of Tuesday at the Natural History Museum near Delhi's Mandi House. As many as 25 fire tenders were used to douse the flames.
The fire in the museum, which is located in the FICCI auditorium premises, is said to have started from the top floors and later spread throughout building. Some parts of the FICCI auditorium were also damaged in the massive inferno.
The exact cause behind the origin of the fire is yet to be ascertained.
At least two fire officials were seriously injured while battling to flames. They have been admitted at the Ram Manohar Lohia Hospital where their condition is said to be stable.