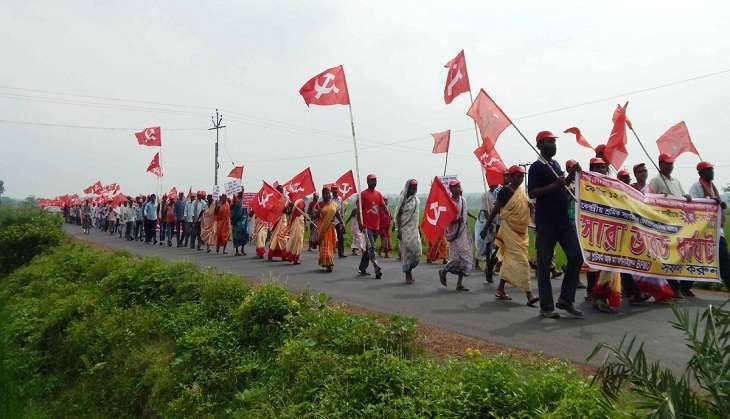 On 2 September, ten central trade unions (CTUs) went on a one-day nationwide strike to protest the government's "indifference" towards their demands.
The CTUs alleged that the government was apathetic to their 12-point charter of demands - which includes a monthly minimum wage of Rs 18,000, controlling price rise and assured minimum monthly pension of Rs 3,000.
While the 24-hour 'Bharat Bandh' shut down Kerala and much of Karnataka, Delhi, Bengal and Mumbai transport ran in a relatively smooth manner. Essential services like power and water supply weren't affected.
Here is a breakdown of how the 2 September 'Bharat Bandh' affected each state:
Complete shutdown in Kerala
The nation-wide strike called by central trade unions hit normal life in Left-ruled Kerala, with public transport vehicles staying off the roads and shops and business establishments downing shutters.
Major roads wore a deserted look in the state capital, Thiruvananthapuram, where hundreds of employees of ISRO units - including the Vikram Sarabhai Space Centre (VSSC) - could not reach their offices as the strike supporters laid a siege on an ISRO bus bay.
Train passengers had a tough time as they had to walk to their homes after alighting at the Thiruvananthapuram railway station. However, police helped patients coming to the Regional Cancer centre in the city by arranging transport.
#WorkersStrikeBack Total Strike in Kerala.#BharatBandh pic.twitter.com/CE7oICvInB

— CPI (M) (@cpimspeak) September 2, 2016
All major unions, barring RSS-associated BMS (Bhartiya Mazdoor Sangh), joined the strike, terming as "completely inadequate" the Central government's assurances to look into their demands and the recent announcements for two-year bonus and hike in minimum wage.
This was the first major strike in Kerala after the CPI(M) led LDF government came to power in May this year. Chief Minister Pinarayi Vijayan courted controversy after he backed the strike in a social media post.
rural Maharashtra partially hit
While the strike evoked a mixed response in rural Maharashtra, it was business as usual for public transport in Mumbai. The suburban trains, autorickshaws, taxis and city buses continued to operate normally, without affecting the daily schedule of lakhs of commuters in Mumbai and suburbs.
A CPM state unit leader told PTI that there were instances of 'rasta roko' (block roads) at various places in rural Maharashtra. "Our activists staged 'rasta roko' agitation in Thane and Nashik districts," CPM leader Ashok Dhawle said.
He claimed that there was an 'overwhelming' response to the stir in the industrial belts of Maharashtra. Several government employees also stayed away from work, he said.
West Bengal largely peaceful during bandh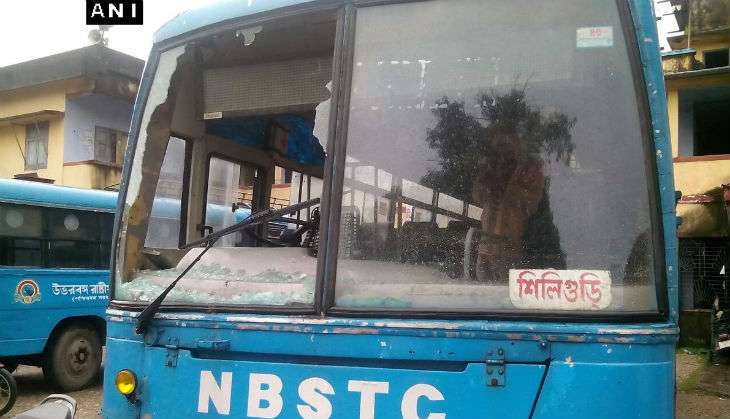 Nation-wide Trade Union Strike: Protesters vandalise NBSTC bus in West Bengal (ANI)
Barring a few stray incidents, West Bengal remained largely peaceful during the one-day strike. Before leaving for the Vatican, Bengal Chief Minister Mamata Banerjee congratulated the people for rejecting the bandh.
Additional police forces were deployed in the state to avoid any untoward incident.
Schools and colleges remained open but reported minimal attendance while government offices reported 98% attendance.
Commuters in the state did not report any transport-related trouble. Government officials said that the traffic on 2 September was more than that of a regular day. According to figures provided by State Parliamentary Affairs Minister Partha Chatterjee, around 27,000 buses plied on 2 September, as opposed to 25,000 private buses that ply on normal days.
CPIM leader Ashok Bhattacharya was arrested by the police in Siliguri's Hill Cart road while protesting against Mamata Banerjee's dictatorial regime. While Chatterjee claimed that Bengal has rejected the bandh culture, CITU president Shyamal Chakraborty said that the bandh was successful as most shops and markets were closed .
Also Read: Nation-wide Trade Union Strike: Protesters vandalise NBSTC bus in West Bengal
In the morning, the state reported a minor clash between CPI(M) and TMC workers. The police intervened to bring the matters under control.
Normal life unaffected in Tamil Nadu
The nation-wide strike did not have much of an impact on normal life in Tamil Nadu as transport services and other businesses functioned normally in the state.
Bus and train services were operated as usual while educational institutes, shops and business establishments remained open.
The ruling AIADMK's labour wing refrained from participating in the strike, which saw union members staging demonstrations at various places raising slogans in support of their demands.
Transport services thrown into a tizzy in Orissa
Train services were affected as trade union activists staged rail roko by holding a sit-in on tracks at many places including Bhubaneswar, Cuttack, Berhampur, Sambalpur, Bhadrak, Balasore, Jaleswar, Keonjhargarh and Rayagada, police said.
Over two dozen passenger and express trains were delayed at different railway stations as the rail roko continued for some time, they said, adding that goods trains were also stranded at several places.
Vehicular movement came to a halt with buses, trucks, auto-rickshaws and other vehicles keeping off the roads with supporters of the strike staging road blockade at many places including highways by burning tyres and putting hurdles, police said.
Banks closed, vehicles stay off the roads in Bihar
Normal life was affected in Bihar with autorickshaws and other public vehicles staying off the road. Passengers, particularly those alighting from trains, had a harrowing time reaching their destination. Government and private sector employees had tough time reaching offices in the absence of proper public transport
Banks remained closed. Schools recorded a low attendance of students.
Mixed reactions in Uttar Pradesh
The strike evoked mixed reactions in Uttar Pradesh, where lakhs of UP government employees joined the nationwide protest.
The 24-hour strike received massive support from different employees' unions and federations across the state, a leader of one of the unions claimed.
While a handful of banks functioned normally, work in state government departments was affected.
Tripura affected by strike
The state capital wore a deserted look with public transport vehicles staying off the roads, official sources said.
Shops, business establishments, markets, banks and educational institutions were closed. Railway services were disrupted owing to strikes at Agartala railway stations.
#WorkersStrikeBack Total strike in Tripura!#BharatBandh pic.twitter.com/504qKlr09C

— CPI (M) (@cpimspeak) September 2, 2016
The Centre of Indian Trade Unions (CITU) activists were picketing before government establishments. They also stopped people from entering offices.
Banking, pubic transport hit in Assam
In Assam, services including banking and public transport were hit due to the strike. All nationalised banks, insurance companies and post offices remained closed while buses remained off the road. In the wake of strike, schools and colleges also remained closed, officials said.
Attendance in government offices and private companies was thin though shops and business establishments remained open.
Train services were affected in parts of the state with several trains remaining stranded or regulated at different places, North East Frontier Railway spokesman said.
(With inputs from Sulagna Sengupta and PTI)