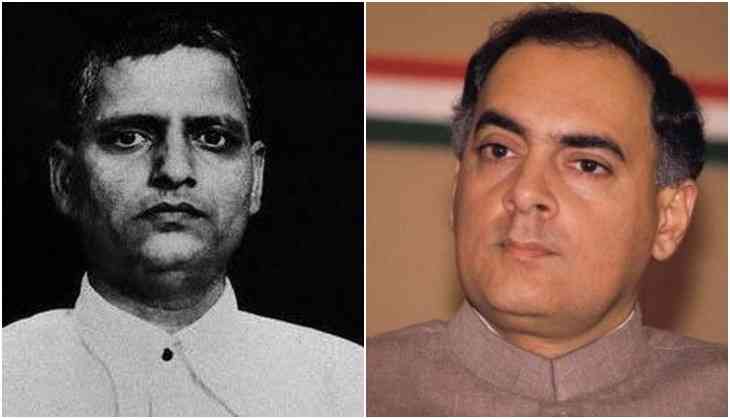 First BJP leader Pragya Singh Thakur stated Nathuram Godse a patriot who killed Mahatma Gandhi, now BJP MP from Karnataka, Nalin Kumar Kateel compared Nathuram Godse with former PM Rajiv Gandhi.
Nalik Kumar made a tweet, "Godse killed one, Kasab killed 72, Rajiv Gandhi killed 17,000. You judge who is more cruel in this??"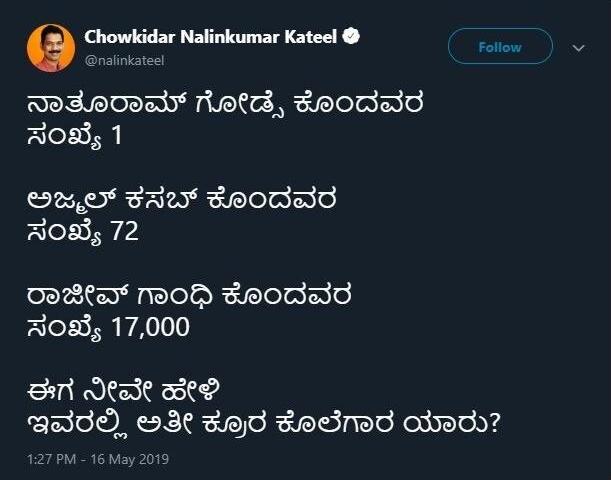 Nalinikumar Tweet
However, the politician later deleted the tweet. Let us tell you Ajmal Kasab was the accused of Mumbai terror attack and he was executed in 2012. Nalin Kateel has been BJP MP from last two time, and now he is contesting election from Dakshina Kannada Lok Sabha constituency.
Well, this election has been a personal attack to Gandhi family, as BJP time and again has brought Rajiv Gandhi in the target. Recently, just a day before elections in Delhi, BJP posted a video of Rajiv Gandhi speech after the 1984 Sikh riots that was a result of a Sikh bodyguard killed Indira Gandhi. The riot had a mass killing and around 3 thousand Sikh were killed brutally in the riots.
Previously, Bhopal candidate of BJP, Sadhvi Pragya in a roadshow said, "Nathuram Godse was a deshbhakt (patriot), is a 'deshbhakt' and will remain a 'deshbhakt'. People calling him a terrorist should instead look within, such people will be given a fitting reply in the election."
Let us tell you that another Union Minister Anantkumar Hegde also praised Godse and said that Godse would have felt happy with this ongoing debate. Hege tweeted, "Am glad that 7 decades later today's generation debates in a changed perceptional environment and gives good scope for the condemned to be heard upon. Nathuram Godse would have finally felt happy with this debate!". However, Hegde later deleted the tweet.
Also Read - Azam Khan's wife Tazeen Fatima alleges death threat to family