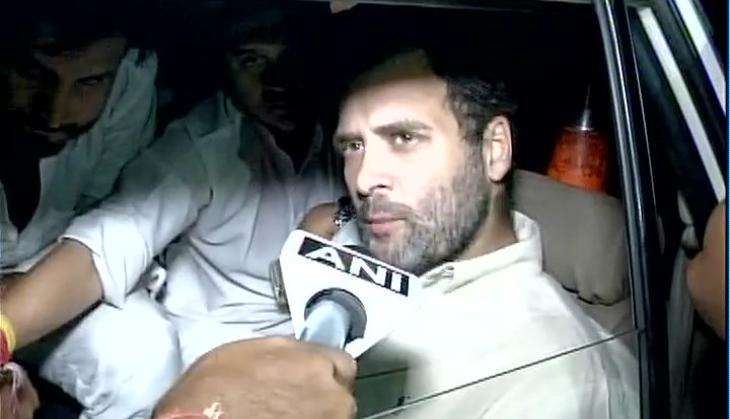 Congress vice president Rahul Gandhi today alleged that Prime Minister Narendra Modi received crores in kickback when he was the Gujarat chief minister. The BJP called Gandhi a "bluffmaster" and said he was insulting the Supreme Court, which has already rejected such allegations.
Gandhi was addressing a public rally in Mehsana, Gujarat which will vote for a new government in 2017. According to him, income tax raids have revealed that the Sahara group paid off PM Modi nine times in six months, starting in 2013.
Also read: Demonetisation is against the poor, says Congress vice president Rahul Gandhi in Mehsana

"The records are with the IT Department for the last two and a half years yet no action has been taken," Gandhi said, while demanding "an independent inquiry." He added, "We want you to come forward and tell the country yourself."
Alleging a nexus between the rich and Prime Minister Narendra Modi-led government, Gandhi said demonetisation is not aimed at curbing the menace of black money but harassing the poor and middle class.
"The Demonetisation move wasn't made against corruption or black money. It was against the honest poor people. Don't know why Modi ji did not target 94 percent of black money but the other six percent," he said while addressing a rally here.
Referring to the writing off of Vijay Mallya's loan by the government, Gandhi said, "Modi ji cannot bring back money taken as loans by one percent rich people and hence he is using the money of poor to waive of this debt. When the Switzerland government has given you the list of names of people with black money deposited in Swiss banks, then why are you not disclosing their names in Parliament?"
Gandhi said PM Modi's aim is to keep the common man's money in banks for at least six-seven months so that he can waive off the loans of rich.
Speaking on the impact of demonetisation on farmers, Gandhi said, "A farmer does not purchase his seeds by cheque or card, but in cash. You (PM Modi) have taken away that cash from them."
Gandhi's rally comes a fortnight after Prime Minister Narendra Modi addressed a farmers' gathering in the same district, where he accused the Opposition of not allowing him to speak in Parliament over demonetisation.
Mehsana is Prime Minister Modi's home district. It is also the economic hub of north Gujarat, where the Congress has a stronghold.
-With ANI inputs