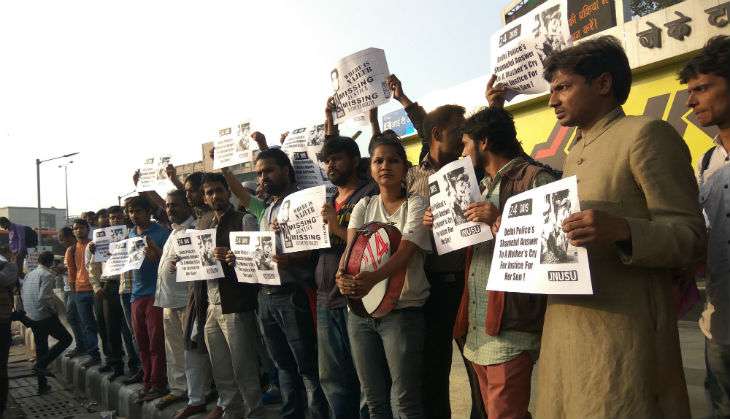 On 8 November, Deependra Pathak, Joint Commissioner of Police, Southwest declared that eight separate teams have been formed to investigate missing student Najeeb Ahmed's case, based on grounds that there may be certain vested interests by those who are creating misplaced apprehensions among the Jawaharlal Nehru University (JNU) students.
Pathak said the police are constantly communicating with Ahmed's family and have been informing them about the investigation's progress.
"These protesting students are aloof from the truth. Eight separate teams are investigating the case. We have been communicating with the victim's family on a daily basis and informing them of our progress," Pathak told ANI.
The Joint Commissioner further said that special emphasis is being put on the reconstruction of the incident and of the personality to asses different dimensions of the case.
"Under reconstruction of personality, we examine individuals' health condition and psychosomatic condition. The fundamental aim of the police is to find different dimensions arising out of this," he added.
On Sunday, the Delhi Police detained JNU students who were staging protest against the authorities at the India Gate here for not taking firm steps to locate their Ahmed.
Najeeb's sister Sadaf Mosharraf, who was also among those detained by the police, vented her ire at the men in uniform.
"We were protesting very peacefully but the Delhi Police detained us without any reason," she said.
Chief Minister Arvind Kejriwal criticised the incident saying the Centre si adopting 'dictatorship' policy and violating the constitutional right of an individual by adopting such measures.
Kejriwal also met President Pranab Mukherjee on Sunday to seek his intervention into the matter.
Najeeb went missing on the intervening night of October 14 and 15 after allegedly being beaten up by a mob of 20 students comprising of the ABVP members, who had gone campaigning to his room for hostel elections.
--ANI