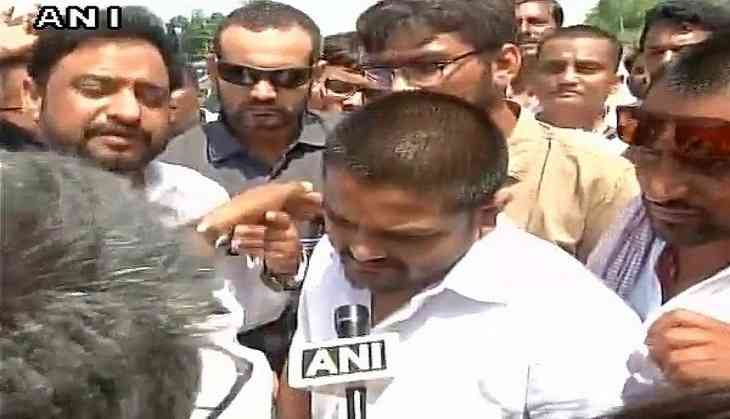 Gujarat's Patidar quota agitation leader Hardik Patel, who was detained by the police when he was heading to Mandsaur in Madhya Pradesh to meet family members of those killed in the police firing during a farmers' agitation, has been released.
Talking to the media after his release, he said his work is to serve people and he is doing the same.
"The farmers should get the appropriate value of their crops. My duty is to work for the society and I am doing that. To maintain law and order in the state is Shivraj Singh Chouhan's work, and, if he is not able to do that, then he should leave the government. He should have faith in his police force. Make good arrangements and make people meet," he added.
Patel was detained in Madhya Pradesh's Neemuch district while en route to Mandsaur to meet the kin of farmers' killed in police firing during an agitation.
Hardik led a violent movement in Gujarat last year over a demand for quotas for Patidars.
Mandsaur has become the epicenter of a farmers' agitation over a demand for loan waivers and better prices for their produce.
During the agitation, six farmers were gunned down by the police, thereby drawing criticism from political parties. The situation forced the district officials to impose Section 144, and restricted prominent personalities from visiting the violence-hit district.
A number of political leaders, including Congress vice-president Rahul Gandhi, and social activists tried to visit Mandsaur, but the police didn't let them enter the area.
The curfew has been lifted from Mandsaur, but prohibitory orders remain.
Meanwhile, the state government has issued a notification for the judicial probe of the Mandsaur violence. Retired Justice J.K. Jain will head the one member judicial commission.
The single member commission will probe under what circumstances the farmers were killed in the agitation.
The commission will also probe the action taken by the administration and police to control the situation was appropriate or not.
-ANI