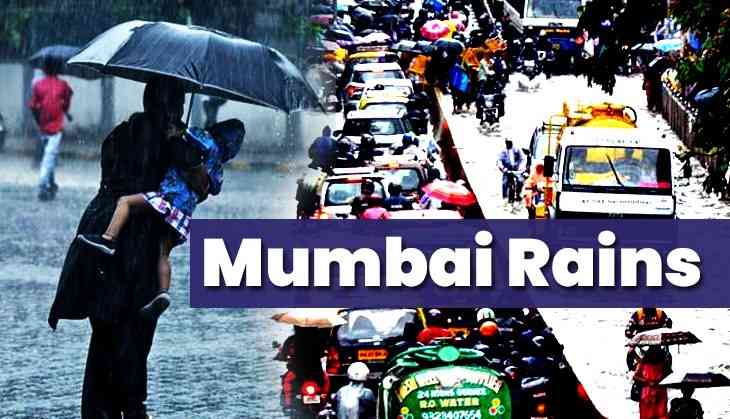 Incessant rains in Mumbai have caused a flood-like situation in the city. Almost a week has been passed but the situation is worsening in the city. The heavy rainfall resulted in water logging on the streets and also traffic.
Due to heavy rainfall, at least 15 deaths have come to light after the wall collapsed due to persistent rainfall for two days.
On Tuesday, authorities have declared public holiday on July 2 and asked people to stay indoors.
According to the MeT department, officials have confirmed that this is the heaviest rainfall in the financial capital for a decade.
Due to the heavy shower in the city, train services and airlines has also got affected.
On July 1st at around 11:45 pm, Spice Jet flight from Jaipur skidded and overshot the main runway at the Mumbai airport.
Also, on Monday early morning, a good train derailed in the ghast section on Karjat-Lonavala, Mumbai-Pune train services have been affected.
Some trains have been cancelled while many diverted and short terminated. While local trains are getting delayed.
Also, Central Railway took to Twitter and wrote, "It's nature's fury... Moving trains in such rains in Kurla Thane section is a safety hazard at this point of time... Suburban Train movement has been suspended till further advice.
Inconvenience is deeply regretted."
It's nature's fury... Moving trains in such rains in Kurla Thane section is safety hazard at this point of time... Suburban Train movement has been suspended till further advice.
Inconvenience is deeply regretted.

— Central Railway (@Central_Railway) July 1, 2019
According to the reports of Skymet, "The commercial capital Mumbai is at serious risk of flooding between July 3 and July 5. Close to 200 mm or more rain/ day is going to batter the city during this period, which could hamper normal life in the city. July also looks extremely promising for Mumbai after good rains were observed in the month of June."
Check out some dreadful visuals of the city of dreams that will give you goosebumps:
Average annual precipitation for Mumbai is around 95.35 inches

Mumbai received 550 mm of rain in the last 48 hr

200mm expected between 3-5 July

Just for perspective, Cherrapunji's annual rainfall average stands approx 463.7 inches#MumbaiRainlive #MumbaiRains #MumbaiRains pic.twitter.com/7MUVzYNBbE

— Ravi Kant ☀️ रवि कांत (@LegalKant) July 2, 2019
Heavy rain continues and causes traffic chaos in different parts of Mumbai. https://t.co/s17fN1bYqb

— Twitter Moments India (@MomentsIndia) July 1, 2019
#MumbaiRains : बारिश से बेहाल मुंबई पर एनसीपी ने कहा- हर साल यही हाल होता है#MumbaiRainsLiveUpdates #MumbaiRainlive #MumbaiRains pic.twitter.com/wC3LYy6QvX

— Saamvedmedia (@Saamvedmedia1) July 2, 2019
Another year, another monsoon & it's same story with India's economic capital Mumbai. Sad state of affairs @mybmc & such images of our city travels across the world. Big applause to @indiannavy & other disaster management teams. #MumbaiRainlive #TuesdayThoughts pic.twitter.com/xLlkiUPQey

— sumeet (@sumitkasnia) July 2, 2019
#WATCH Maharashtra: Andheri Subway in Mumbai is closed due to flooding in the area. #MumbaiRains pic.twitter.com/9J4hNyzQTn

— ANI (@ANI) July 2, 2019
Maharashtra: Police & Brihanmumbai Municipal Corporation (BMC) workers help riders cross waterlogged roads in King's Circle area of Mumbai, following heavy rains in the city. #MumbaiRains pic.twitter.com/19Si8IYpIp

— ANI (@ANI) July 2, 2019
आओ तुम्हें चेरापुंजी ले जाऐ #MumbaiRainlive pic.twitter.com/PWz3rK4k5Z

— pramod bagade (@pramodbagade1) July 2, 2019
Mumbai: Streets in the city flooded due to heavy rainfall, people wade through water in Gandhi Market area. #MumbaiRains pic.twitter.com/R0n0G4Qs3q

— ANI (@ANI) July 2, 2019
#Maharashtra : Water logging inside Vakola police station in Mumbai following heavy rainfall in the city. #MumbaiRains pic.twitter.com/ekL16lSyYq

— ANI (@ANI) July 2, 2019
Pune: 6 died after a wall of Sinhgad College, Ambegaon collapsed today. DM says, "Will take immediate action against builder&the one who owns the retaining walls. A risk assessment of 287 sites had been done,this site couldn't be assessed as there was no permission" #Maharashtra pic.twitter.com/bvLNFBBRoP

— ANI (@ANI) July 2, 2019
Also Read: Mumbai rains: Maharashtra declares July 2 as public holiday