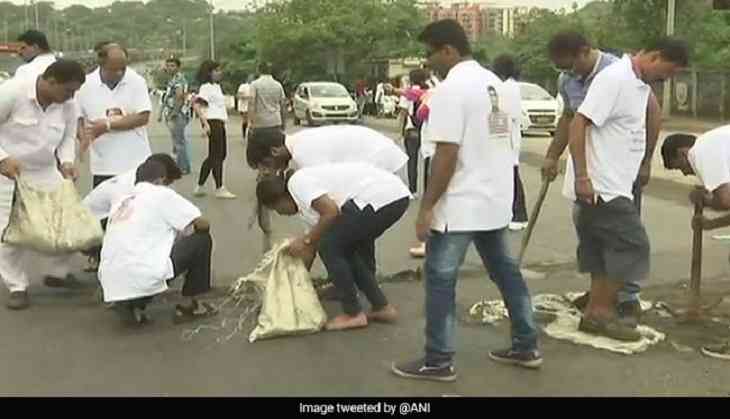 After losing 16-year-old son due to pothole, a Mumbai resident takes pledge to make India pothole free and filled up so far 556th pothole in the city on Sunday itself.
Dadarao Bilhore lost his son when son's bike fell into a deep pothole on rainwater clogged Jogeshwari-Vikhroli Link Road (JVLK) in Mumbai. After his death, Bilhor started filling up potholes in the city to avert suck kind of incident.
Expressing his pledge to make India free of potholes, he said that he does not want that others also lost his son due to potholes in India. He also urged people to do the same work. If people start doing so, India will become pothole-free.
"I don't want people to face the same fate as my son, Prakash. I will keep working till India becomes pothole-free. Our nation has a huge population. If even one lakh people start filling potholes, India will become pothole-free," Bilhor was quoted by ANI as saying.
When asked about the clash between Brihanmumbai Municipal Corporation (BMC), Mumbai Metropolitan Region Development Authority (MMRD), over taking the responsibility of resolving the crisis, he said "If people start filling the potholes, they will be inspired to take up the work and solve the problem."
In this season, potholes take the lives of six persons in Mumbai and around. The Maharashtra Navnirman Sena workers also protest against the long-lasting issue of potholes-related deaths in the state.
Also read: Delhi CM Arvind Kejriwal visited Pakistan's newly elect PM Imran Khan to congratulate him over election victory?