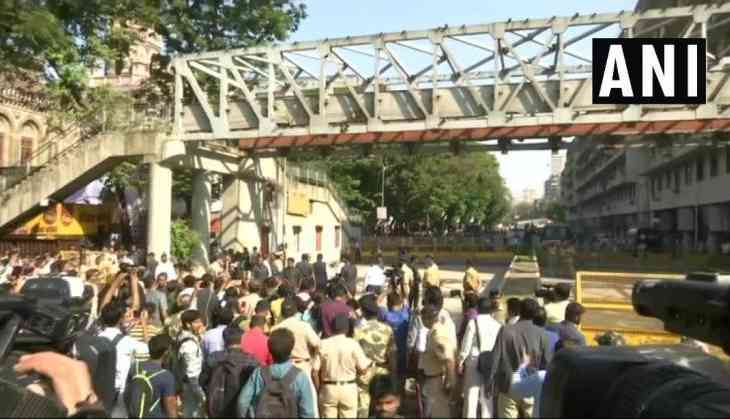 Mumbai foot over bridge collapse
In yet another tragic incident in Mumbai's foot over bridge, which collapsed on Thursday night and claimed the lives of 6 persons, injuring 31 had already been declared 'fit to use' six months ago in an audit report which was submitted to the authorities.
After the Elphinstone bridge accident, the government and the BMC had started to audit the structures across the city, including the bridges and the quality of the survey was also improved. In the last two years, the BMC had almost audited all the 314 bridges in Mumbai, giving a "fit to use" certificate to the latest foot over bridge which collapsed near the BMC office in Mumbai.
Maharashtra: Morning visuals from the spot where part of a foot over bridge near CSMT railway station collapsed in Mumbai yesterday. 6 people had died in the incident. pic.twitter.com/4qQ909Zznc

— ANI (@ANI) March 15, 2019
Ajoy Mehta, Commissioner of BMC has stated, "I have sought a custody of documents related to the structural audit. Once I go through it, the further course of action will be decided… Strict action will be initiated if negligence is found."
The Indian Express quoted an unnamed official in its report who claimed that the said over bridge was 35 years old, adding that "In 2016, under Swachh Bharat Abhiyan, the northern end of the bridge was taken up for beautification but not repairs. The plan included changing the tiles of the bridge and new paint."
CM Devendra Fadnavis, in a statement over the issue has said that action will be taken against the responsible persons and a high level enquiry would be done.
Fadnavis added that "There are around 10 injured admitted in the ward, one in ICU; all out of danger now. High-level enquiry will be done to probe into the matter. FIR has been lodged."
The question of moral responsibility and action against the accused will be the need of the hour.
Also read: Mumbai Overbridge Collapse: FIR filed against concerned Central Railway and BMC officials