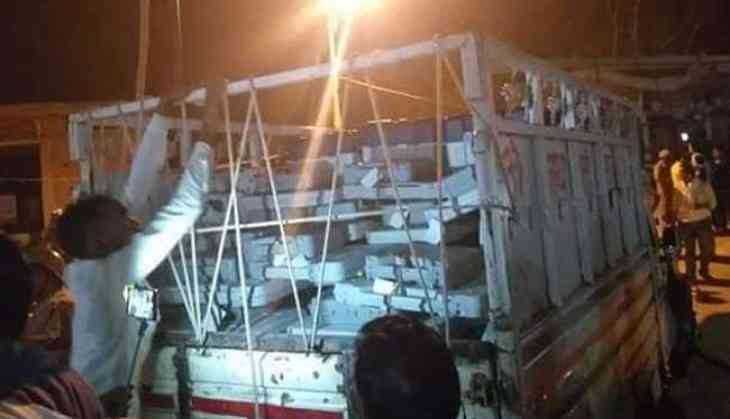 Days after the final phase of Lok Sabha voting concluded, multiple videos of EVMs being moved and stored from one unauthorised storage house to another surfaced on social media, triggering questions. Opposition claims tampering of voting machines as videos show the movement of EVMs in UP and Bihar.
In videos machines can be stored at local shops, others are seen piled up in the boot of private vehicles. One of the video that is purportedly shot in Uttar Pradesh's Chandauli, a group of men can be seen unloading scores of voting machines and VVPAT machines and piling them inside a shop.
Another from Ghazipur, BSP candidate Afzal Ansari and his supporters claimed that some attempted to take out a vehicle full of EVMs. However, police and the district have denied the allegations.
1. An #EVM (Replacing?) video from #Chandauli,#UP

2. People protesting at #Jangipur Mandi Samiti demanding security to #EVMs strongroom. #Ghazipur#LokSabhaElections2019 #BJP_भगाओ_देश_बचाओ
@BJPsoldIndia @kiran_patniak

pic.twitter.com/DskSgQbDgB

https://t.co/DskSgQbDgB

— Ajnabi (@ajnabi_guy) May 20, 2019
Also, a video has been shared by AAAP worker, who levelled allegations against BJP, alleged that the video is of Punjab and the two voting machines was found lying in a car.
some facts and evidence of EVM and filthy Game of BJP.#EVM machines found in a car with no security in Punjab.

pic.twitter.com/CtwejdGdxA

— Shalu (@Shalupcrf) May 20, 2019
Rashtriya Janata Dal leader Tejashwi Yadav has also raised the issue saying, "Visuals and claims of sudden movement of EVMs observed across north India! Why is it so? Who is transporting these EVMs & Why? What is the purpose and objective of this exercise? In order to avoid any confusion & misconception, the Election Commission must issue a statement ASAP."
Soon after the controversy hit, Election Commission responded on EVM issue. "Ghazipur- There was an issue regarding "Having a watch on polled EVM strong room by the candidates " which was resolved by conveying the EC instructions. 2. Chandauli - frivolous allegation by some people, EVMs were in proper security and protocol," ANI reported.
"3. Domariaganj - EVMs were under proper security and protocol. Agitation was unnecessary. They were convinced by DM and SP. The matter is resolved. 4. Jhansi - EVMs are under proper security & protocol in the presence of political parties candidates. No issue," it added.
Also read: Raghuvansh Prasad backs Tejashwi Yadav for not casting vote: One will certainly not cast vote only...