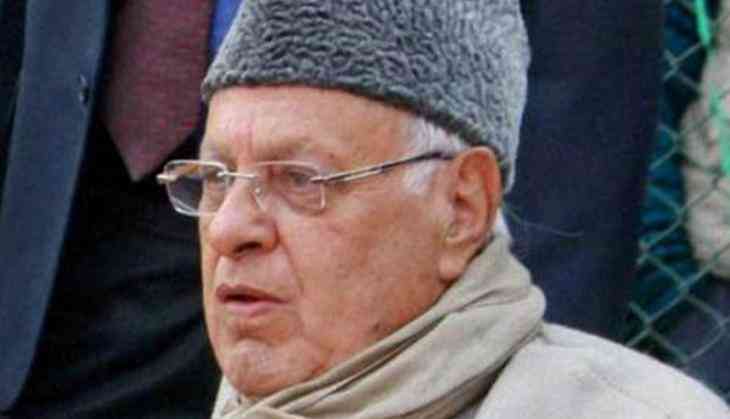 Launching another attack on Mehbooba Mufti, N ational Conference leader Farooq Abdullah on Wednesday accused the Jammu and Kashmir Chief Minister of being hand-in-glove with the Hurriyat.
Abdullah told the media here that Mehbooba Mufti was always secretly backed Kashmiri separatists.
""She (Mehbooba) is hand-in-glove with Hurriyat. Even you know that she always secretly backed the Kashmiri separatists. She used to consider Geelani her father," he said.
"There is no doubt that Hurriyat is hand-in-glove with the PDP. The 27 seats that they got from South Kashmir, who do you think they have got those from?" he added.
The National Investigating Agency (NIA) arrested seven Hurriyat leaders on July 24.
They were then brought to the headquarters of the Central Bureau of Investigation (CBI) in Delhi.
A Delhi court yesterday sent all seven separatist leaders - Altaf Shah, Ayaz Akbar, Peer Saifullah, Mehraj Kalwal, Shahid-ul-Islam, Naeem Khan and Bitta Karate - to a 10 day- National Investigation Agency (NIA) custody over money laundering charges to fund terror in the Kashmir Valley.
Yesterday, Jammu and Kashmir police arrested another separatist leader Shabir Ahmad Shah in connection with the alleged terror financing case on the instruction of the Enforcement Directorate.
Meanwhile, the NIA is likely to summon top Kashmiri separatists like Syed Ali Shah Geelani, Mirwaiz Umer Farooq and Yasin Malik for questioning in connection with alleged terror funding case.
The NIA visited Srinagar in May to probe the alleged funding by Pakistan for illegal activities in Kashmir, and questioned several separatist leaders on the issue of raising, collecting and transferring funds via the Hawala route and other channels to fund terror activities in Kashmir.
The NIA sleuths specifically questioned separatist leaders Farooq Ahmed Dar alias Bitta Karate and Gazi Javed Baba at that time.
The NIA is said to be probing all aspects of funding to separatist leaders and how they reportedly used these funds to fuel unrest in the Kashmir Valley.
-ANI