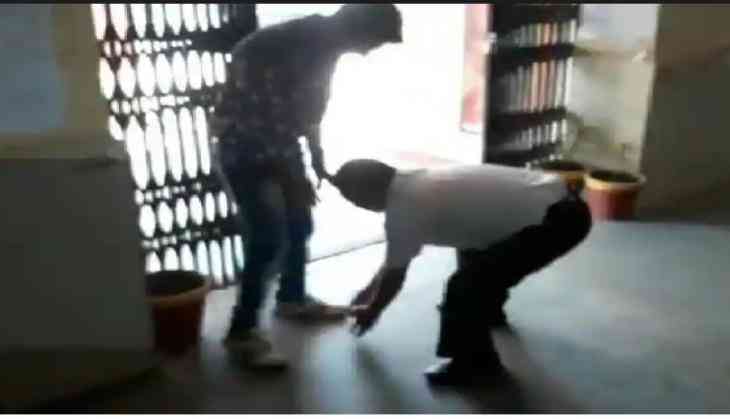 A video of a man trying to touch a few youngsters feet has gone viral on the social media platform. The video is said to be of a professor of Rajiv Gandhi PG College in Mandsaur who is trying to touch feet of students belonging to ABVP for stopping them from raising slogans.
The workers called him anti-national & asked him to apologise for asking them to stop raising slogans outside the classroom.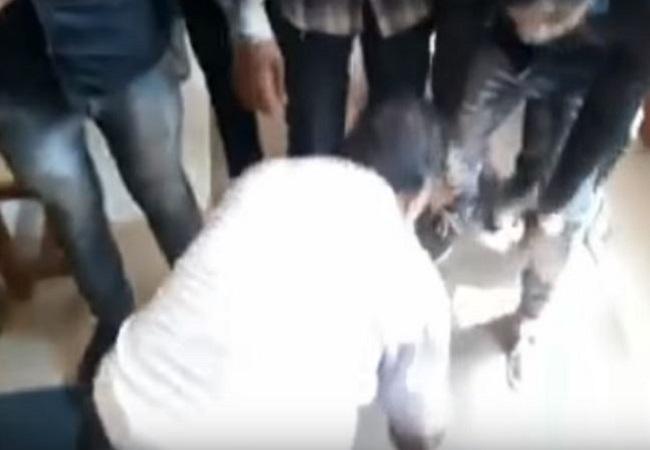 In the video, Professor Dinesh Gupta of Rajiv Gandhi Government Post-graduate Degree College, Mandsaur can be seen running after the activists belonging to ABVP asking them to let him touch their feet as the latter also run away in a bid to allegedly avoid embarrassment. In the video Gupta is heard saying repeatedly "….mai parhaane ka apraadh karta hun (… I commit the sin of teaching)".
The incident took place when the activists were allegedly raising slogans while on their way to submit a memorandum to the college principal over a delay in the announcement of examination results. It was the time when professor Dinesh Gupta stopped them from raising slogans.
The activists claims that said Gupta was stopping them from saying Vande Mataram and "Bharat Mata Ki Jai". They also threatened to file a case against him for the "unpatriotic" act.
#WATCH: A professor of Rajiv Gandhi PG College in Mandsaur tried to touch the feet of students belonging to ABVP, allegedly after they called him anti-national & asked him to apologise for asking them to stop raising slogans outside the classroom. #MadhyaPradesh (26.09.2018) pic.twitter.com/RivV1lzzrY

— ANI (@ANI) September 28, 2018
Speaking on the matter Principal of Rajiv Gandhi PG College, Ravindra Sohni said, "students are alleging that professor stopped them from raising 'Bharat mata ki jai' slogans. However, nothing like that happened. He just stopped them from raising slogans.They even demanded him to apologise."
Also read: Bhima Koregaon case: Supreme Court refuses SIT probe in the arrest of five activists; extends house arrest for 4 weeks