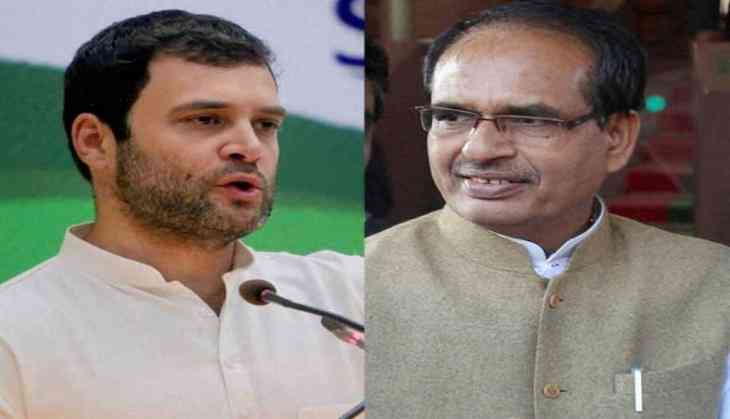 Rahul Gandhi and Shivraj Singh Chouhan
In the upcoming Madhya Pradesh Assembly election, the election strategy of the BJP is clear and CM Shivraj Singh Chouhan has up the ante and attacked Rahul Gandhi saying he is a foreigner and will not help the state.
The election is scheduled for November 28 and the state is relling under heavy anti-incumbency of the Shivraj government, and said that Rahul Gandhi stays abroad more than he stays in the country.
Shivraj said in a rally in Satna, "Yeh to thehre pardesi, saath kya nibhayenge. Kaam to mama hi aayega." He added that "Rahul Gandhi kahan rahenge 28 (November) tareekh ke baad? Desh mein kam rehte hain, videsh mein zyada. Yeh to thehre pardesi, saath kya nibhayenge. Kaam to mama hi aayega."
Meanwhile, the Congress president Rahul Gandhi said, "A few days ago, I said by mistake that Shivraj ji's son is involved in Panama papers.Within a minute, he said he'll file defamation case.When I talk about Vyapam,e-tendering,illegal mining& mid-day meal, why don't you file defamation? It means there is truth in them."
BJP president Amit Shah has also raised the issue of farmers in Madhya Pradesh and has put the Congress party in the dock, saying "Rahul baba kisaan-kisaan karte hain. Kya rahul baba ne kabhi 2 bael (ox) bhi jote hain? Aapke samaye mein kisaano ko urea ke liye lathi khani padti thi."
The BJP is reeling under rural distress and farmers suicide crisis, which was seen in 2016, when farmers protested against the Shivraj government in Mandsaur and 6 of them were killed by police in firing.
Also read: Mizoram Assembly Election 2018: PM Narendra Modi says, 'Northeast has moved past from bandh, guns and
Rahul Gandhi kahan rahenge 28 (November) tareekh (voting day for #MadhyaPradeshElections2018) ke baad? Desh mein kam rehte hain, videsh mein zyada. Yeh to thehre pardesi, saath kya nibhayenge. Kaam to mama hi aayega: Madhya Pradesh CM Shivraj Singh Chouhan in Satna. pic.twitter.com/tHDFnMUVf8

— ANI (@ANI) November 23, 2018