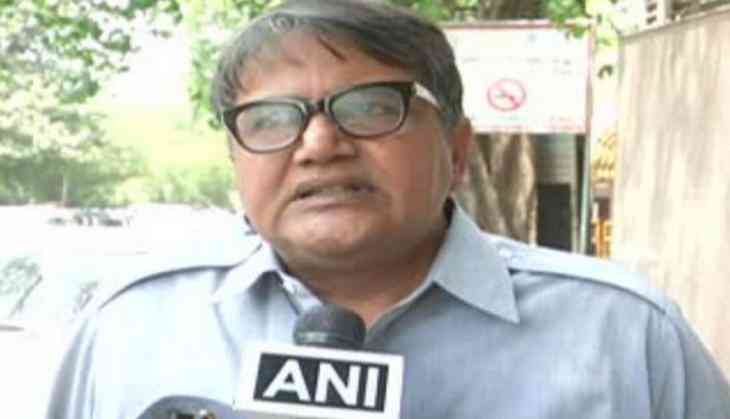 Moral duty of Kejriwal to resign now: Devinder Sehrawat post Kapil Mishra expose (ANI)
Former Aam Aadmi Party (AAP) MLA Devinder Singh Sehrawat today asserted that the following party's sacked Cabinet minister Kapil Mishra's stunning revelation it is crystal clear that the Arvind Kejriwal Government has completely compromised with corruption.
Sehrawat told ANI, "The Arvind Kejriwal Government, which lasted only 49 days, is far different from the present one. The Government which came in mid-February 2014 had a message that corrupt will not be spared. But now after Kapil Mishra's revelation, it has been proved that this party has completely compromised with corruption."
Claiming that the AAP government who received a mandate in the previous election has utterly failed to fulfil promises in two years, Sehrawat said, that now it is the moral authority of AAP convener Kejriwal to resign from the post.
"Now it's up to Kejriwal to see if he won't admit his faults or he will accept the reality," he added.
Kapil Mishra alleged that he saw Cabinet Minister Satyendra Jain give Rs. two crores to Delhi Chief Minister Arvind Kejriwal.
"Day before yesterday, I saw Satyendra Jain giving Rs. two crores to Arvind Kejriwal and I wasn't able to sleep the entire night," Jain said in a press briefing here after meeting Lieutenant Governor Anil Baijal. Mishra also claimed that he urged the Chief Minister to disclose as to from where he got the money.
"There are several allegations of money laundering and black money against Satyendra Jain which are known to all. It is known to all that before holding the post of Delhi Cabinet Minister and after taking the oath, he gave a prominent position to his daughter and other relatives," he said.
Mishra said that Jain is being given the certificate of honesty by the AAP, but he has himself seen him accepting money.
"Satyendra Jain himself has accepted in front of me that he has made a deal of Rs. 50 crore for a relative of Arvind Kejriwal. I even had a discussion about this with Arvind Kejriwal, but he simply asked me to trust him. But after seeing the cash I cannot keep quiet. It doesn't matter even if I have been removed from the post. I am not going to stay quite on this issue,' he said.
He further added that there are a number of corrupt people in the party who have their protectors shielding them from the action.
Pledging to remove corrupt people from the party, he said that he will go to all the higher authority and make the revelation about these things.
Earlier on Saturday, Shortly after being removed from the Delhi Cabinet, Mishra said he may have been axed for saying he would submit the names of those people involved in the tanker scam to the Anti-Corruption Bureau (ACB).
"It has nothing to do with the MCD polls, and till now, I have not received any official confirmation so far. But I met Arvind Kejriwal this morning, and I said that it has been a year since the report on the tanker scam was tabled and no action has been taken," Mishra told ANI.
"I had told him that I will submit the names of the responsible persons to the Anti-Corruption Bureau (ACB)," Mishra added. He said he would expose the names involved in the tanker scam on Sunday.
However, sources close to Kejriwal claim that Mishra did not meet the Chief Minister and neither had he submitted any papers related to the tanker scam.
"I have also written a letter to the ACB and have sought appointment from them. I will expose everyone involved in the scam and will apprise the ACB," he added.
He also denied that he was ousted for supporting AAP leader Kumar Vishwas.
Mishra tweeted that he was the only minister who has not come under the CBI scanner and has not been charged with corruption.
"I am the only minister with no corruption charges. No CBI enquiry against me," he said.
This decision came soon after the AAP suffered a humiliating defeat at the hands of the BJP in the recently concluded MCD polls.
-ANI